Mom wrote their story in 2014 in order to share their history with family and family to come.
I'm excited to now share their story with YOU!
In The Ziemke Story you will learn of their Christian Heritage, their early years, ministry, trying times, family, where they've been, and how they ended up where they are today!
We will endeavor to share a little bit of  The Ziemke Story each week as Mom wrote it to her children, grandchildren, great grandchildren, and beyond.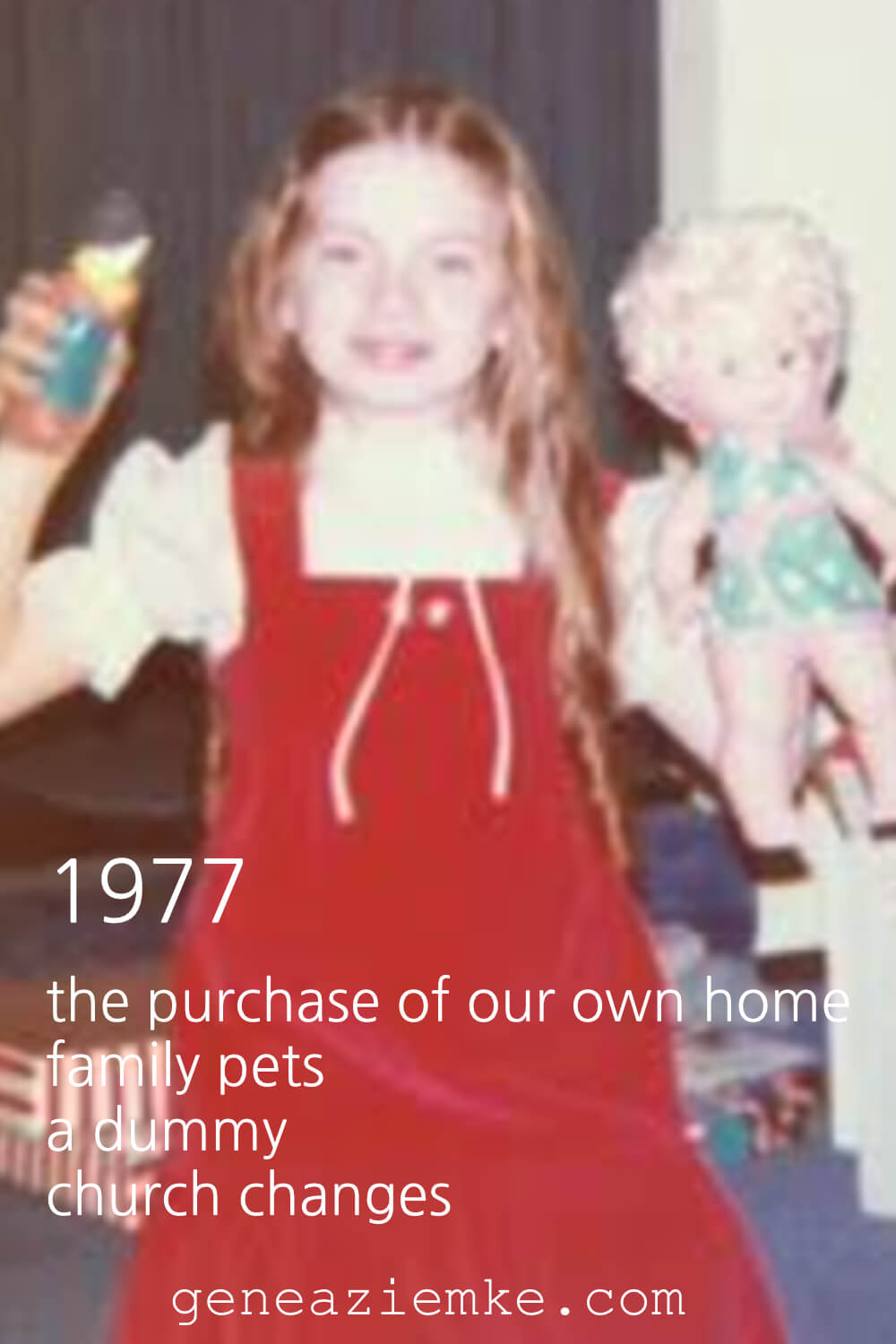 1977 – The Purchase Of Our Own Home, Family Pets, A Dummy, and Church Changes
Quick Quotes from a letter I wrote home on May 3, 1977:
Brad went to a magic show last night with a family in the church and came home wide-eyed with unbelief, telling stories of doves coming out of hankies, etc.  It reminded me of the ones we used to have in Carson.
Bridget is top in her class and proudly announces that she is going to start second grade math.
The Purchase Of Our Own Home
After living in the parsonage for over seven years, we really wanted to find a way to purchase our own home.  Noma Werner, whose husband pastored our neighboring church in Tacoma, had become a part of our church after the death of her husband, Edmund Werner in 1974.  She wanted to give us a love offering to perhaps take a trip to Israel.  It was $1000.00.  We asked if she would mind if we used it to help us buy a house.  That was fine with her.  Gene started looking and found one he thought I would like.  We put the thousand dollars down on it.  The total cost was $57,500.  At that time, I thought that was very expensive and worried about making the payments.  It was a two story home with 3100 square feet at 10812 149th ST E in Firgrove Estates of Puyallup's South Hill.  There were three bedrooms downstairs and one upstairs, plus a large bonus room upstairs. It had a large fenced back yard with many trees and very private.
We moved in June, 1977.  Gene and I had the downstairs master bedroom.  Debi had the front bedroom and Brad the one in between. Brenda and Bridget shared the big upstairs bedroom with its own bath.  It was large enough for all of their furniture but the carpet was orange.  We put away the hot pink and purchased peach bedspreads and canopy covers.
A room above the garage with an A-shaped ceiling, open to the great room, we designated as a play room for seven year old Bridget.  She had a dolly party and invited four little girlfriends to bring favorite dollies and make them tiny cakes.  Brenda acted as overseer and didn't interrupt my work or mess up the house.
Family Pets
Pets had never been too successful at our house.  We tried having outdoor kittens at the parsonage.  They multiplied until we had to get rid of several. Those that were left tended to want to keep warm under the hood of the parked car.  More than once when starting the car, we would hear a cat scream.  Then there was the Golden Lab puppy.  He was so cute and lovable.  As he grew, his role was to find things around the neighborhood and drag them to our back patio.  More than once we had to take back to our next door neighbor things that had been taken from her garage. One day the Lab was missing.  We figured he must have been stolen or hit by a car on the busy road.
A Dummy Joins The Family
A ventriloquist came to the church to do some children's ministry.  Brenda was enthused about getting a "dummy" and so we got her "Simon Sez".  She practiced and used it some to help in teaching children.
Changes In The Church
We could see staff changes coming.  Some of the staff desired a different direction for their ministry or didn't share the dream of expansion. There was a need for finance to be kept in the church for building and evangelism, etc.