Mom wrote their story in 2014 in order to share their history with family and family to come.
I'm excited to now share their story with YOU!
In The Ziemke Story you will learn of their Christian Heritage, their early years, ministry, trying times, family, where they've been, and how they ended up where they are today!
We will endeavor to share a little bit of  The Ziemke Story each week as Mom wrote it to her children, grandchildren, great grandchildren, and beyond.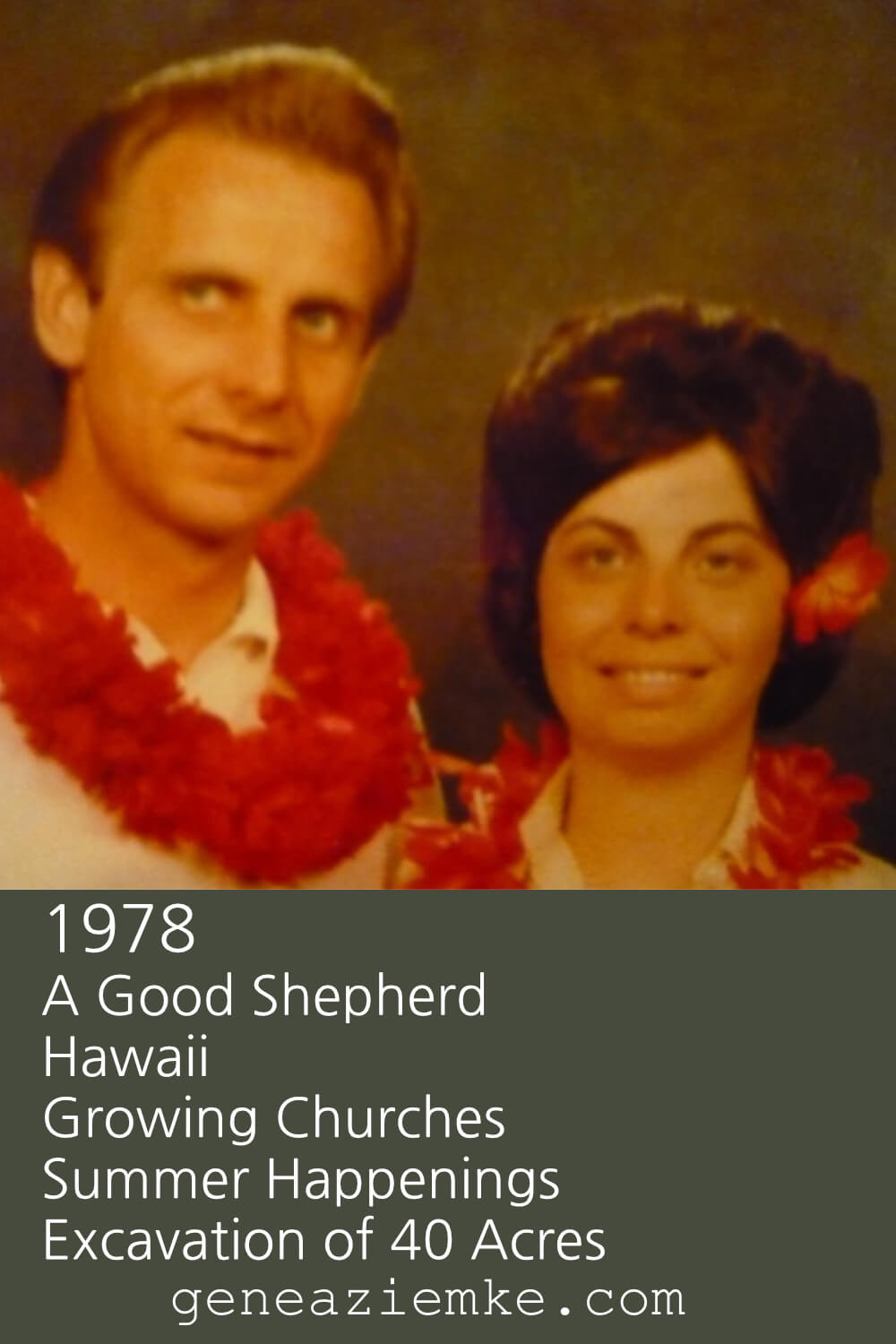 1978 – A Good Shepherd, Hawaii, Growing Churches, Summer Happenings, and Excavation Of 40 Acres
Quick Quotes from my letter to Mom January 27, 1978:
We enjoyed our 3 day stewardship meeting with elder Brother Shoemake. He had told us all he wanted was airfare but we, of course, gave him an offering too.  Then, when Gene and Brad took him to the airport, he gave them $50 for each of the 3 kids.  They were dumfounded but thrilled. All have sent him thank you notes.  Brad (11) said he would first of all pay his tithes (Bro Shoemake had taught on that and it stuck). Then he wants to get a $10 digital watch, star jeans, and save the rest for something special.  Brenda (13) wants a black satin jacket she'd been longing for. She bought a few little odds and ends and wants to start saving for her own stereo component set. Bridget (8) has been poring over the Sears catalogues and has a lot of little goodies picked out but is trying to decide between all those or a bike. Ha. They understand you can't buy the world for $50 even though it's more money than they've ever had at one time.
Learning To Be A Good Shepherd
As with the 1818 S Meridian property, now that we had the property at 144th and Meridian, Gene decided to make use of it. He wanted some sheep in order to learn how to be a "good Shepherd".  He started with two sheep, one goat, and five baby mallard ducks. Gene and the kids went to feed them every day.
It did turn out to be a learning experience. The sheep tried to get out of the fence and, when they did, they were attacked by a coyote or even a pack of neighborhood dogs on a night-time prowl. The goats always thought the grass was greener on the other side of the fence and could manage to get their heads through but their horns kept them trapped in the fencing.
A Trip To Hawaii
In May of 1978, our church gifted us with a trip to Hawaii. It was an amazing getaway from the busy life we led. The kids stayed home with Grandma Ziemke. When we arrived in Honolulu, we were greeted with leis and a limo to our hotel.  We enjoyed the Waikiki Sheraton, walking on the beach, and shopping at King's Alley and the International Bazaar. We saw the changing of the guards at King's Alley, and attended a luau complete with pit roasted pig. We got to see the ritual in preparation of the pig as well. The Polynesian Cultural Center was a main attraction. We were fascinated by the boy with twirling fire rods.
We rented a small car (no windows and canvas top) and drove to the Tropical Gardens (a bird paradise) and the Punch Bowl, and looked up Uncle Elmer Hansen's grave (Mom Ziemke's brother who was killed in the war) and took pictures by it. We were too late for the Pearl Harbor tour but could see it at a distance. However, we were frustrated at being in Hawaii with no way to sun. Being modest Pentecostals, we were not about to go in public with our bathing suits on.
The next day we flew to Molokai and stayed for three days. The flight was so different from any other we had experienced. It was a nine passenger Cessna. The luggage was weighed. Ours and that of someone else were 20 pounds over, so we left it behind to come over later. We lined up with the other passengers and followed the pilot to the plane. He looked us over for size and told us where to sit to distribute the weight evenly. We sat in back. Then he climbed in and made his way to the front, still in our view. We could see all of the controls and hear his orders. His right front tire was a little low so he had to go get some air before take-off.
Molokai was desolate but beautiful. We stayed at the only "major" hotel on the island – the Sheraton. We drove to the other end of the island, past a Charloias Cattle Ranch, and found a secluded beach where we laid in the sun about an hour and waded in the ocean. On the way back to the hotel, we came to a look-out point where you could see far down to a leper colony, accessible only by donkey, helicopter, or boat. We drove past pineapple fields and coconut trees. That hour in the sun had given us quite a burn. Except for meals, we were content to spend the next day in our room.
On the way from Molokai back to Oahu, the plane ride was again interesting and even a little scary. The pilot told us his radar was out. He kept looking around and asked us to help him keep a look-out for other planes. To top it off, it was raining. We had to fly around the storm and came in ten minutes late.
We had heard of a Pastor on Oahu, Brother Scott, through one of our church members, so we gave him a call. He picked us up from the plane and took us to eat and, later, to his evening service. We enjoyed that. The people there were so nice. On Monday, he took us to see some of the things in the city: the State Capitol, the Westminster Abby of Hawaii (a church with pictures of Hawaii's Kings and Queens, etc), Dole pineapple processing Co, and the Ala Moana shopping center. He also drove us through the sinful and old parts of town where the prostitutes walk and to the garment factory to see where they make Hawaiian tourist clothing. The next day, we took the Scotts to dinner and they drove us to "round top" to see all of the lights.
We took pineapple and gifts for the kids home with us. We got home just as our church was dismissing so we went in and greeted everyone. Brenda, now age 13, had made strawberry pie so we ate soup and pie, talked, and checked mail until 1 a.m. It was good to be home. The following Monday, we took the kids to the ocean along with the Goins family.
A Reconnaissance Trip To Get Ideas From Growing Churches
In October, Gene and some men from the church went on what they called a "reconnaissance" trip to get ideas from growing churches. Their tour took them to Seattle, Dallas, Atlanta, Detroit, Columbus, Richmond, Jacksonville, Miami, and even Kingston, Jamaica. Gene had been struggling against the general presumption that churches should just "hold their own" in size. His burden was to see many people won to God and to provide a sizable church complex where that may be accomplished. He always put God's work first, taking only a minimal salary in his first 10 years of pastorate, in order to see the work of God succeed, buy property, and build.
1978 was the year that atheist Madelyn Murray O'Haire got 27,000 signatures to get the Bible and prayer eliminated from schools.
Family Happenings The Summer Of 1978
Bridget and Brenda took piano lessons. Bridget continued longer and was soon able to play with both hands. Both girls did Dough Art for a while. Brenda had several orthodontist appointments. Brenda and Scott Sargent both flew separately to Iowa on Eastern Airlines to spend a month on the farm with Gram and Gramp Mincer July 2 to August 3. Spencer came to spend some time with Brad. They went swimming in the pool at Jeff and Frieda's apartments, took turns driving the blazer on the 40 acres (with us along), and other fun activities. Also, when their cousins from California, Tami and Tephi, came to visit; our kids went to swim with them.
Just a note:
Our teen-aged daughter, Brenda, and pre-teen son, Brad, had gotten into a discussion with Gene around the fireplace one evening on the dos and don'ts of dating.  Brad, who never seemed to go through the girl hating stage, spoke up as though he weren't interested himself but concerned for Brenda.  "Now I'm asking this one for Brenda", he said; "how old would you have to be to kiss a girl"?  The guffaws started.
Gene and Brad went fishing with our friends, the Brickles, who had a fishing boat at Ocean Shores.  When Mom and Dad Mincer visited, Dad and Gene went tuna fishing 100 miles out with Dave Brickles.  It was very scary.  The 25' boat was loaded with gas cans everywhere so they wouldn't run out.  Later, the Brickles got bigger boats.
We bought a parakeet for Bridget's birthday and it died soon after.  We went back and got a second one and it also died. We had a nice cage for it and kept it in the girls' room.  When the 3rd parakeet died within a few days, we gave up and decided to sell the cage.  It was either a bad batch or there was something they were allergic to.  It made me think of the canaries in the coal mines as a warning to miners if air quality goes bad.
We thought all of our children should have braces on their teeth for at least a time. Brenda had them in 1978. She was considered borderline for having her jaw broken and brought a bit forward. We didn't want to think about that, nor afford the expense. She opted to do that herself after she was married. Bridget didn't need a lot of work on her teeth but braces did make them more beautiful. Brad balked at the idea and refused braces. His teeth turned out fine. Years later, he told us he straightened them himself by holding his fingers over his teeth at night.
Excavation Of 40 Acres
That fall, by faith, we began excavation on the new Property at 144th and Meridian. We had good weather. The Earth Moving company had told us they couldn't get to it until January. Then it started to rain so much they had to cancel all jobs. Gene told them to move their equipment in on a certain day and we would pray for dry days. Well, it dried up the day they moved in and stayed dry for 16 work days. They finished digging out a space for a two story daylight basement for our soon to be built church. The extra dirt filled in low areas at the back of the property. They also pushed in a road and made the two ponds into one lake. That was all there was to do at the time. The next day it rained again.
Bits and Pieces from my Journal in 1978
Our church business meetings have been thrilling. If time were taken to read all of the minutes of those and listen to all the tapes of services over the past 2 or 3 years, enough could be obtained to write a book and to inspire our faith time and time again.
On September 24, 1978, Pastor (Gene) asked the church to pray for an Indian summer, as we had scheduled earth movers for the week of October 2 and it would be impossible for them to do the work if it rained. It had been very rainy weather. The next week it rained only a little and the work began.
October 2 – It was really an Indian summer with no rain and temperatures in the 60's and 70's. The boss told Gene they needed an east wind. Three minutes later it started.
October 9 – Monday and Tuesday it threatened to rain but only sprinkled for a few minutes. On Wednesday, our architect in Sumner, George Berry, said he was concerned about the project because he got wet when he went jogging that morning but it didn't rain at the property. They got down to grade today. Now just a day of leveling it off should be left.
October 11 & 12 – They finished hauling out the dirt, fine combed the surface, and began work on the ponds. Still no rain. The Lord answered our prayers plus.
October 13 – Still working on the ponds to enlarge them into a lake with an island in the middle. Still no rain. We had a prayer meeting around a bon fire tonight with at least 50 people. It was a beautiful clear evening with full moon. Good testimonies and praise from 7 – 8:15 pm.
October 19 – They finished all earth moving today, including pushing a road on around and finishing the lake. It only rained one day during the earth moving and that not enough to stop them.
October 20 – It rained.
The following may be a bit redundant but it's a story Gene likes to tell:
When joining the two ponds, the big earthmover got stuck as the waters began to merge.  Another earth mover was called in to try to pull it out but it didn't work and they were both stuck. We had a D-8 dozer on the property and called it into action. On the count of three they were all to rev their engines to get out of the mire. That didn't work either. As a last resort, Gene asked the workers to bring our small, almost tiny dozer, the John Deere 350, to join in. That certainly wouldn't help, the workers thought, but they brought it anyway.
Sure enough, on the count of three with just that extra bit of power, all reving their engines, slowly but surely all came out of the muck. Gene has used that story many times in sermons to say, no matter how insignificant you may think you are, you may just be in the right place at the right time to make a difference.