Mom wrote their story in 2014 in order to share their history with family and family to come.
I'm excited to now share their story with YOU!
In The Ziemke Story you will learn of their Christian Heritage, their early years, ministry, trying times, family, where they've been, and how they ended up where they are today!
We will endeavor to share a little bit of  The Ziemke Story each week as Mom wrote it to her children, grandchildren, great grandchildren, and beyond.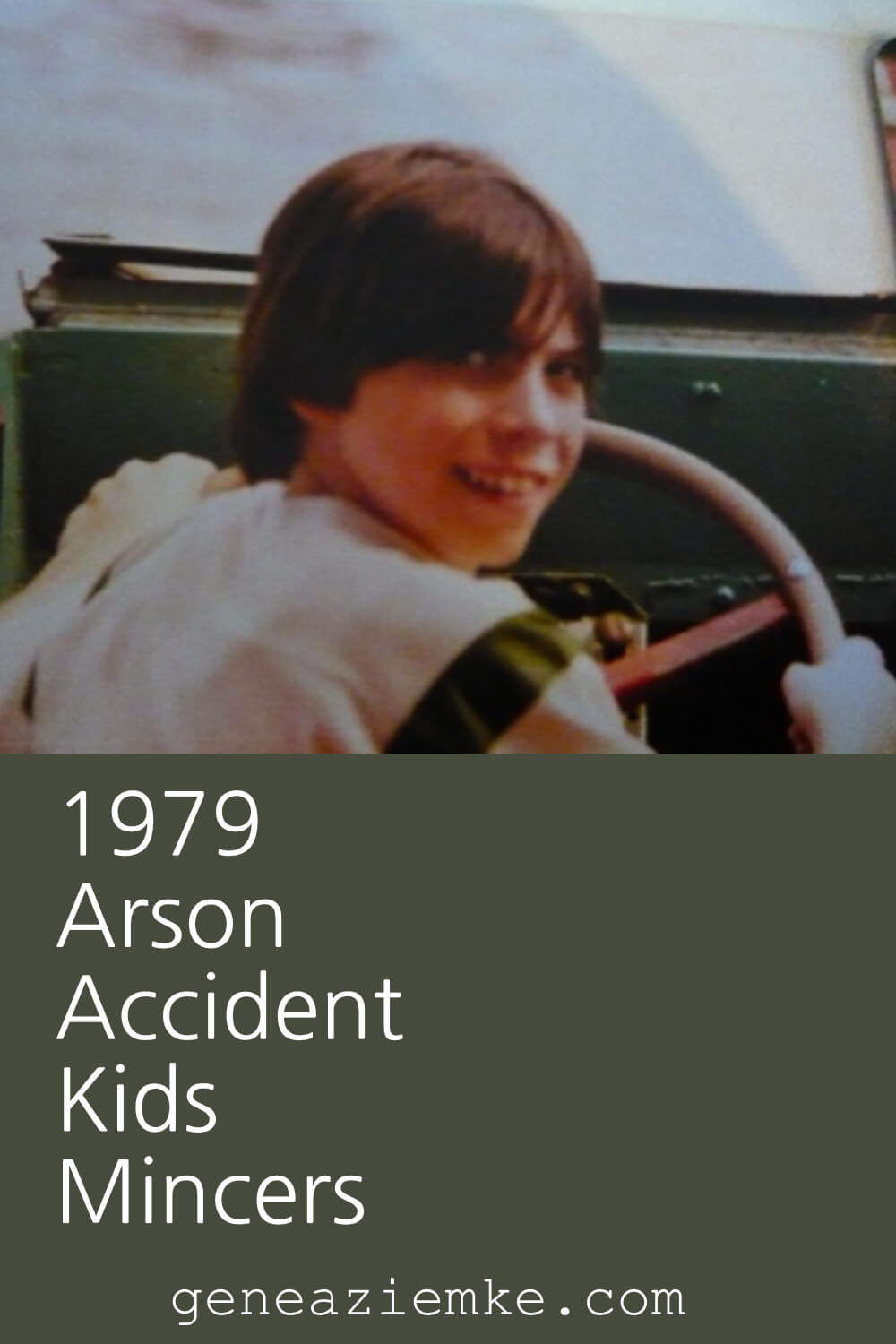 1979 – Arson, Accident, Kids, and The Mincers
Fundraiser
Still needing to raise funds for the 40 acres, we sold "Vibra Pillows". They were very popular then – even at the fair. A battery was enclosed in the pillow to make it vibrate when leaned against.
Dirt Bikes
In March, Brad got a dirt bike from some people in the church for $100 and made payments. Gene decided he better have one to ride with Brad and watched the ads until he came up with one for the same price, only they didn't know if it worked. They got it working and figured he could sell it for $250 or $300 when he was done with it. Brenda then decided she wanted to ride, so he found her one. When they took them over to the 40 acres, Brad got stuck in the mud and nobody could get Brenda's started … until they got back home. It was nice that Gene had a new hobby with the kids and they could spend time together. It meant a lot to them.
Arson At Church
On May 11, there was an arson fire at church. It was a good thing Dave and Nancy lived in the apartment there. Dave heard glass breaking and looked out the window to see flames. Someone had thrown a fire-bomb (Molotov cocktail) through the window. He called the fire department and it was caught early enough that damage was minimal – mostly in the one overflow room. We learned later it was someone who had visited our church with a friend. He was gay and didn't like what the Bible's instructions were regarding that lifestyle.
Accident
The next night, after a Saturday night concert with the Granquists and Haygoods, some youth were on their way to a restaurant and got in an accident. Brenda was with them and suffered a broken collarbone. Someone evidently told the driver to play "miss the cat".  He swerved and lost control.  The car ended up on its top. The insurance company wanted to settle with Brenda fairly soon with $1000 for pain and suffering. She healed nicely and used the money to go to Hawaii with Jeff and Frieda. That trip took place on her 15th birthday, January 31, 1980. She went again with Frieda in December of 1985.
Instruments
We encouraged our children to learn a musical instrument. Brenda decided it would be the Vibraharp for her. After some looking, we found one for sale from a private individual and arranged lessons for her. Burien was a little far to go for lessons. She was busy otherwise and eventually her interest waned, just as it did for Bridget and the piano. Brad started drum lessons at church every Thursday night.
A Pool
We wanted our home to be a place for our kids to invite their friends and tried to make it welcoming. We got an above ground pool with a deep end and installed it in our back yard. It was very private there. I enjoyed doing a little swimming or just floating on a raft and enjoying the sun. As it turned out, I spent more time cleaning and maintaining it than actual usage. The children used it some but not as much as we had hoped.
40 acres
We worked on our new 40 acre property quite a bit. In July we had a tent meeting there and, on the 4th,  a Salmon Bake. On July 17, Brenda and Brad went off to Victoria for Youth Camp with the Youth Group.
Bernice and Lyle's 40th Anniversary
The weather was beautiful the day we flew to Iowa, July 30, 1979, to celebrate Mom and Dad's 40th wedding anniversary at their home. We siblings, who were there, sang a take-off of the John Denver song "Hey, It's Good to be Back Home Again". That is, we sang the chorus and made up our own verses, starting with: "There's a tree out on the highway, that points the way to home."  Just about everyone who ever visited the farm used that big fir tree as a landmark.  The top of it did point to the left – the direction to go to find the farm. Then the chorus: "Hey it's good to be back home again, Sometimes this old farm feels like a long-lost friend, Yes 'n' hey, it's good to be back home again."
Since we were there a few days early, the kids had a chance to spend some time with cousins.  Terry took Scott, Spencer, and Brad driving in the pickup and showed them about backing up, ending up in the ditch. They walked three miles home to get a tractor to pull it out.
Mom had so many good meals for all of us day after day, starting with a dinner choice of roast pork or beef.  The next morning, a breakfast of blueberry muffins, sausage, and cheese omelets followed by fried chicken with corn on the cob for dinner. Another breakfast included a huge fruit bowl, bacon, omelet, and hash browns and then fish for dinner. We also had a late night pizza party and family prayer.
Bonnie and I took our daughters to see Gram Tiller, Gram Mincer, and our old Pastor, Brother Dainty at the Rest Home Uncle Wallace had built in Bellevue, Nebraska. We took Gram Tiller to eat at the Hacienda. Even at her age, she loved Mexican food.
The actual anniversary celebration was the evening of August 4. There must have been 50 relatives there at the farm by 5 p.m. for a picnic style meal and a program at 7 p.m. Besides the song, Rich, Terry, and Gene did a funny skit about mother, daughter…daughter, undertaker. Uncle Howard and Aunt Margaret spoke of memories of Mom and Dad's courtship. Then we had the special cake and ice cream. It was 90 degrees that day but a bit cooler in the evening.
After the anniversary, we borrowed the folks' motor home and visited friends and relatives in Wisconsin. Gene's cousins, Gary and Linda, treated us royally and our kids got acquainted with their kids, Celeste, Ted, and Cindy. Gene's Dad came over for a couple of hours. He was so funny to talk with and so serious about little material things like cars, etc. Gene preached at the Sturtevant church. Everyone stayed for Kringle and coffee afterward. The next day, we had a picnic at Aunt Eleanor's with another big crowd of at least 30 relatives.
Wisconsin Dells was great fun. Gene and Sandy, Terry and Jeri, Jim and Carolyn, Alvin and Helen, and another couple met us there and we camped together. We all went to the Tommy Bartlett Water Show, saw the Biblical Gardens, and the kids rode bumper boats at a place built to look like Noah's Ark. The next day, all 29 of us went on an hour long "Duck" ride. The "Ducks" were Army surplus vehicles that travel both in and out of water, so we actually drove around on land and then down into the waters of the "Dells". The one Brad was on let the boys each drive awhile in the river. More excitement came for the kids with mini bike and Dune Cat rides. Gene and some of the men did the mini Indy 500 – Gene did the track in 38 seconds. We took the motor home back to the folks and flew home on the 14th of August.
Quick Quotes from my letter to Mom August 8, 1979:
Bridget loves to go swimming too – she can't really swim yet but has plastic blow up things for her arms to help her learn.  She had to show me the other day how she could float on her stomach and back and turn 6 summersaults in a row under water.
Kids
That fall, the kids were in 4th, 7th, and 9th grade. Bridget was doing well in 4th grade spelling and sounding out words. Her teacher said to let her know if she got bored and she would give her some harder "stuff" to do. She wanted Raggedy Ann things for her birthday.
Brad planned to go hunting with Gene in the fall so they watched prices on guns and found a good buy on a new one. He had $40 to apply toward it and owed Gene another $100+. He mowed a few lawns and so forth to make money. They got to go hunting a few times in October.
Brenda was enthused about 9th grade. Instead of PE, she did "Office Assisting" and got some good training in filing, working intercoms, and, most of all, a complicated phone system the schools had just put in. She was also a teacher's assistant one period a day. The teacher she assisted said she didn't even want a TA the year before until she heard she could have Brenda and asked for her again this year. Another thing that made her feel good was in "House" (home room) the teacher told her she had asked advice from other staff members on who would be a good secretary for her "house" and several recommended Brenda. So she was also "house" secretary for the first 15 – 30 minutes of the day, responsible to take attendance and handle any monies turned in for ASB cards and whatever else may be needed.
This year, Brenda got a babysitting job (and sometimes housecleaning) for our neighbors, the Iversons. We went to General Conference in Salt Lake City along with the Leonards and Pierces in September and had a revival in November, in which 17 were baptized. Debi and Chic started dating.
The Mincers
Mom and Dad had just bought a house in Lake Placid, Florida, and were going to be there for Christmas. Rich and Kathy would be there as well as Ladonna and Chip. Gene and I decided to surprise them and show up too but we had no idea where they lived, nor did we have their new phone number. Gene's cousins, Gary and Linda Thompson, were vacationing in Orlando. They picked us up and drove us to Lake Placid, about two hours away. It took us another hour to find the folk's house. All we knew was Leisure Lakes across the street from a golf course, with a canal in the back yard. We asked questions in town and then started driving around until we found them.
Mom was the only one home when we arrived. She thought it must be the phone man driving in. We saw her through the window as she threw her hands to her mouth when she saw us. We surprised everyone else when they came home.
The folks continued to winter in Florida for the next few years. When the farm in Iowa was sold, they made Florida their home and visited the Northwest each summer, spending time with each of their Northwest children but more time with Ladonna and Chip so they could care for their children while they worked the fairs with their jewelry business.
The Iowa farm was sold in 1987, a time when farmers were struggling to keep afloat. Dad had to borrow against the farm to buy seed to plant. They barely got out of it what was owed. In the late 50's there were 1.8 million dairy farms in the US. By 2007 only 65,000 remained. It was much the same for the small farmers. Those farms were purchased by conglomerates or multi-family farmers who farmed many farms with thousands of acres. Ours was just one of many maintained by the new owners. The silos, now unused, were torn down to avoid paying annual tax on their existence.