Mom wrote their story in 2014 in order to share their history with family and family to come.
I'm excited to now share their story with YOU!
In The Ziemke Story you will learn of their Christian Heritage, their early years, ministry, trying times, family, where they've been, and how they ended up where they are today!
We will endeavor to share a little bit of  The Ziemke Story each week as Mom wrote it to her children, grandchildren, great grandchildren, and beyond.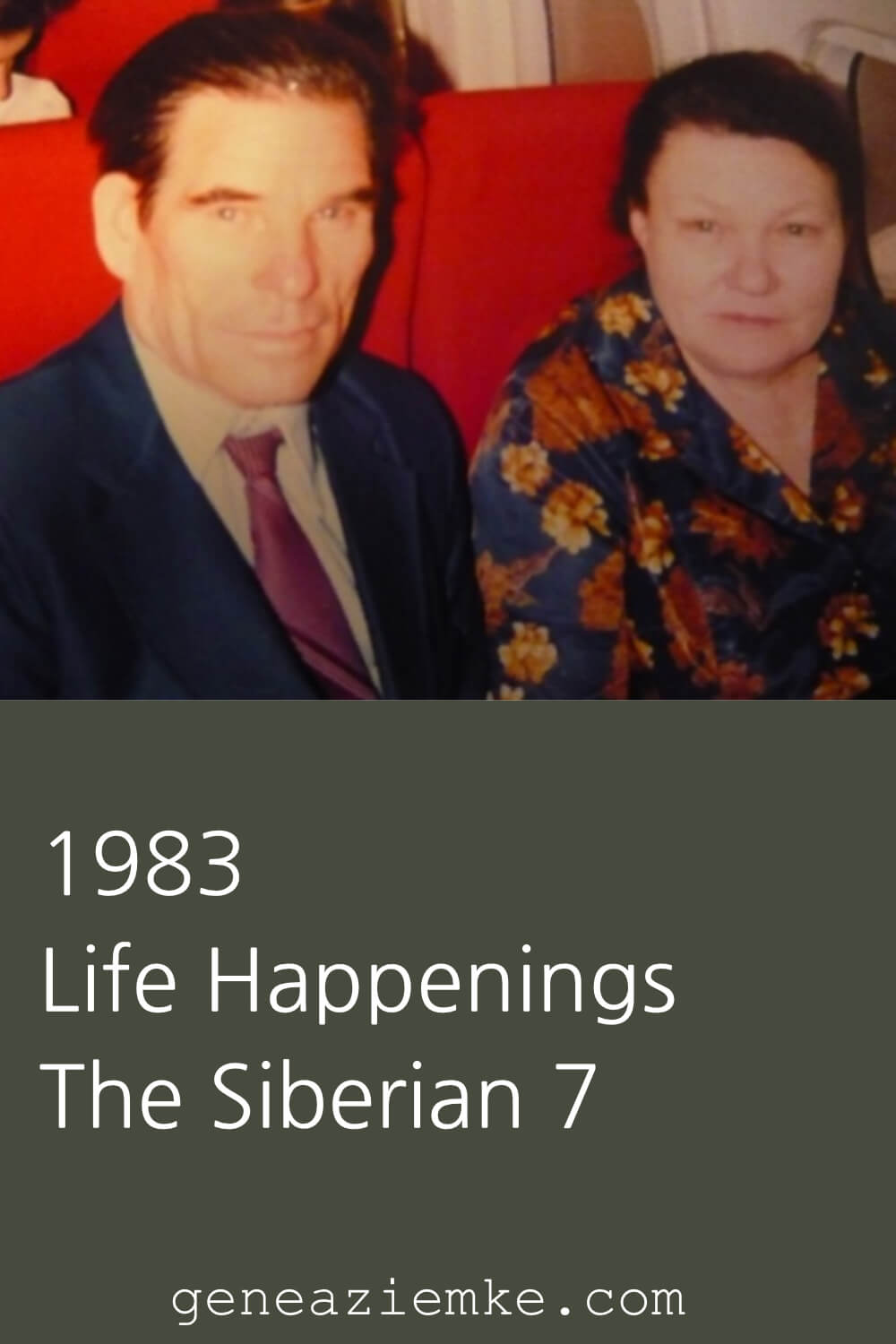 1983
Life and Church
Our church purchased its first computer in 1983. There weren't a lot of church programs developed. Mickey spent hours and hours programming it so that it could be used for church membership, finance, etc. Joe was our financial administrator.
In March of 1983, we flew to Florida to visit Mom and Dad for a week. We relaxed, visited, read, went boating on the canal, and played games. I rode bikes with Bridget. We took one day to go to Orlando and visit Disneyworld's "Spaceship earth", man's progress in communication from dawn of civilization. In "American Adventure" we visited Mexico, China, Germany, Italy, United Kingdom, and many more exhibits.
On other days we went to "The Passion Play" in Lake Wales and to church with Mom and Dad. We played shuffleboard with them and Bridget won. Out on the boat again, we read and studied while Dad fished. We visited a museum of "Cars and Music of Yesteryear" in Sarasota. When we arrived back at the Airport in Seattle, several church folks were there to meet us with "I Love Puyallup" signs for our crusade March 29, 30, and 31.
Brenda graduated from High School in June and we gave her $500 for a down payment on her car. The next summer, she sold her 82 Camaro for just what she owed on it to get out of the high payments. Gene and Brad went to an auction to look for a good deal for her.
This was our second year of doing the "Jesus of Nazareth" outdoor Passion play at our 144th and Meridian property. We hadn't yet begun to build a new church building there but, before the year was out, we sold our current church building at 1818 S Meridian.
We had big plans for developing the property, including a Bible School.  CBC in Portland was closing and we were offered the opportunity to bring it to Puyallup. We accepted their invitation for our family to attend a Christian Education conference in Colorado. It was held at the YMCA of the Rockies. We enjoyed the trip. The kids had a great time skating, horseback riding, alpine sledding, swimming, playing box games, badminton, basketball, and card games such as Uno. Gene got to go fishing, I went to Estes Park with the women, and we all went to the Air Force Academy. We enjoyed good messages and classes by the UPC Board of Education speakers but, in the end, the college move was not to be.
Siberian Seven
That June the "Siberian Seven" came into our lives. They were a family of 13 children, 2 parents, and a guest (married to one of their sons). Five of their family and two others had made it to the American Embassy in Moscow five years earlier to request immigration to the United States and, for fear of their lives, had stayed and lived in the Embassy until their release. This was after 23 years of trying, numerous 10 day trips to Moscow, imprisonments, beatings, etc.
Papa V had arranged it this time (1978) so that the teenaged son, would dress up and carry a briefcase, making it look like he was carrying the official paperwork. Momma V, on the other hand, carried a worn bag containing the paperwork. As they walked toward the Embassy, the teenage son was in the lead. Sure enough, the KGB attacked him and the rest made a rush for the Embassy. He was beaten and put in prison.
One of the older girls had been left home to care for the younger members of the family. For months, she cared for the children, knowing nothing of what had become of their parents.
Now inside the embassy, the Americans could do nothing for them. They were left in the small foyer without food or restroom facilities for a week. After a week, they were moved to a room in the basement and Embassy workers provided food for them. However, negotiations between Moscow and the Embassy were at a standstill.  The small group knew that to leave would mean certain imprisonment, so they dared not leave.
President Carter visited them. Still no release. President Reagan visited them. Still no release. The oldest of the children went on a hunger strike. For months, she refused food until she got down to 70 pounds. When she was near death, they allowed her release to a hospital in Moscow and, eventually, to Israel. Many government workers had tried to obtain their release. A group called "Friends in the West" was working on it and joined forces with our UPC headquarters. Pastors Nathaniel, Norman, and at least one other flew to Moscow to negotiate for their release and offered to sponsor the family. Still the officials in Moscow would not let them come to America.
Because the oldest child was already in Israel, they asked to immigrate there and were allowed.  Once in Israel for a month, they came on to America, landing at the SeaTac Airport.
Only a day or two before their arrival, we received a call from UPC headquarters letting us know the family was coming. Brother Urshan asked our church to greet them and host them.  We were happy to do so.
We, at the World of Pentecost, hosted the V family when they came to America from Russia in 1983. These were precious people who wanted religious freedom. There were 16 in their family.
With short notice, 50 people from our church and as many from other Pentecostal churches were there to welcome them. Our people broke into song: "What a Friend we have in Jesus" as they came off the plane. That was a Friday. They came to our Jesus of Nazareth drama on Saturday night and to church on Sunday. The girls in the family went shopping with our ladies on Monday while the guys went fishing with our guys. We had a Bar-b-cue at our place for them and a few church folks on Monday evening.
It took some time to get them acclimated, find clothing, housing, education opportunities, and Doctor examinations. I enrolled two of the children in public schools. The youngest girl, at 12 years old, was very frail. It was discovered that she had a parasite. Once medicated, she began to thrive. Many in our church family pitched in to help in various ways, including teaching some of the girls to drive.
So many clothes were donated that much of it had to be donated elsewhere. It was curious though, that each of the family members thought they could only take two outfits, one for work or every day and one for church. That's how it had been in Russia.
A couple of the older girls had studied some English and were able to translate quite well for the others. The V family lived in a rented house not far from us. We were involved quite a bit in taking them shopping and helping them move and a myriad of other things such as getting a phone, prescriptions, proper clothing, etc.
In 1984, the UPCI purchased a house for them, also not far from us, with the promise that Mom and Dad and whoever lived with them, could live there until they died. Papa died within a couple of years from cancer. This, they felt, was due to something he had been given in prison
There is much more to the story. A book of the "Siberian Seven" written by John Pollock when they were in the Embassy for those long five years is available. Perhaps at some point one of their family members will write "the rest of the story" about their eventual immigration and where all of the family members are now.  Lida has also written a book titled: Set Them Free.  Anyone interested in researching this family can find information on the internet.