Mom wrote their story in 2014 in order to share their history with family and family to come.
I'm excited to now share their story with YOU!
In The Ziemke Story you will learn of their Christian Heritage, their early years, ministry, trying times, family, where they've been, and how they ended up where they are today!
We will endeavor to share a little bit of  The Ziemke Story each week as Mom wrote it to her children, grandchildren, great grandchildren, and beyond.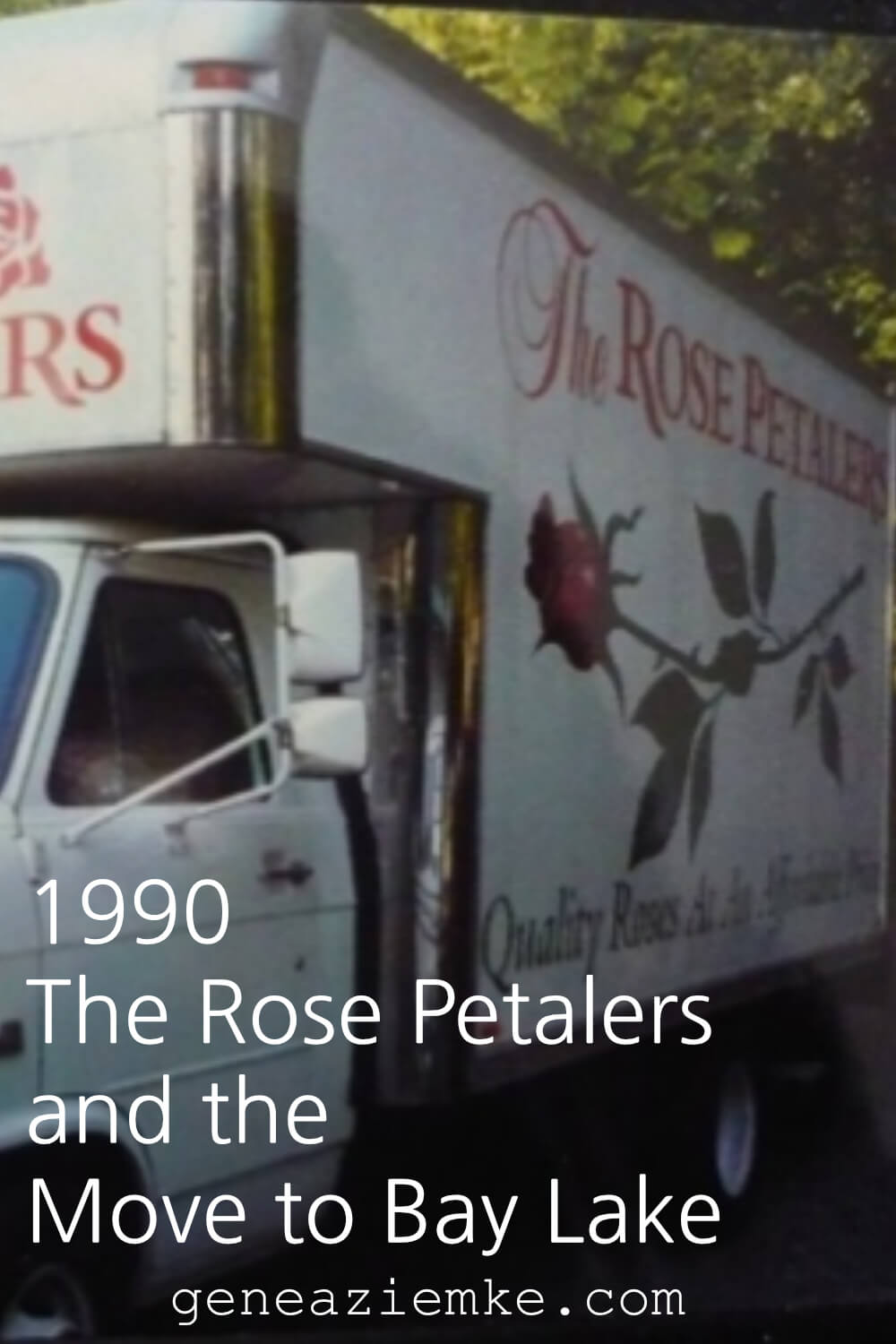 1990 – The Rose Petalers And A Move To Bay Lake
1990 was the year Gene turned the big "5-0". We had a picnic with friends at 5-Mile Lake and then drove to Woodinville where he got his gift of a hot-air-balloon ride. Brett and Brad accompanied him.
In June, my Mother's brother, Uncle Wallace, came to Washington to check his "Zonies" (cross between a Zebra and pony). When the people who owned the Zonies picked him up and drove him toward Roy, WA, he realized he was near relatives. He came to be with us on Sunday afternoon, and all of our kids, Debi and Chic, Ladonna and kids, and Terry and Kim got to see him. He stayed the night and Ladonna took him to the plane the next day after some sight-seeing.
Brenda and Brett were leading busy lives. Brad and Josette were expecting their first baby.
The Rose Petalers
After a couple of years of the long commute to the transmission shop, Gene resigned his service writing job in June, 1990, and decided to go into business for himself. For a while he delivered bundles of "Little Nickel" papers to stores. About that time, my Uncles, Howard in Omaha and Richard in Florida, were selling fresh cut flowers and he consulted with them. He started a fresh-cut flower business with a minivan pulling a trailer with a freezer chest on it. Blue ice kept the freezer cool enough for the flowers while on the road. Brad also became involved and actually started first before going on to develop his own business with roadside stands. Gene dubbed the business "The Rose Petalers", a name suggested by son-in-law, Brett.
Business was successful and Gene needed a larger truck. He bought a cube van and set it up like a portable flower shop. It was decorated with pictures and mirrors and was complete with awning and even a closet with portable toilet. A second and larger van allowed him, with the help of Bridget and others, to sell at two or three locations at once. Bonney Lake proved to be better than the others so he eventually concentrated on that. Our friend, Andy Zayemopoulas, began to help and eventually started a business of his own.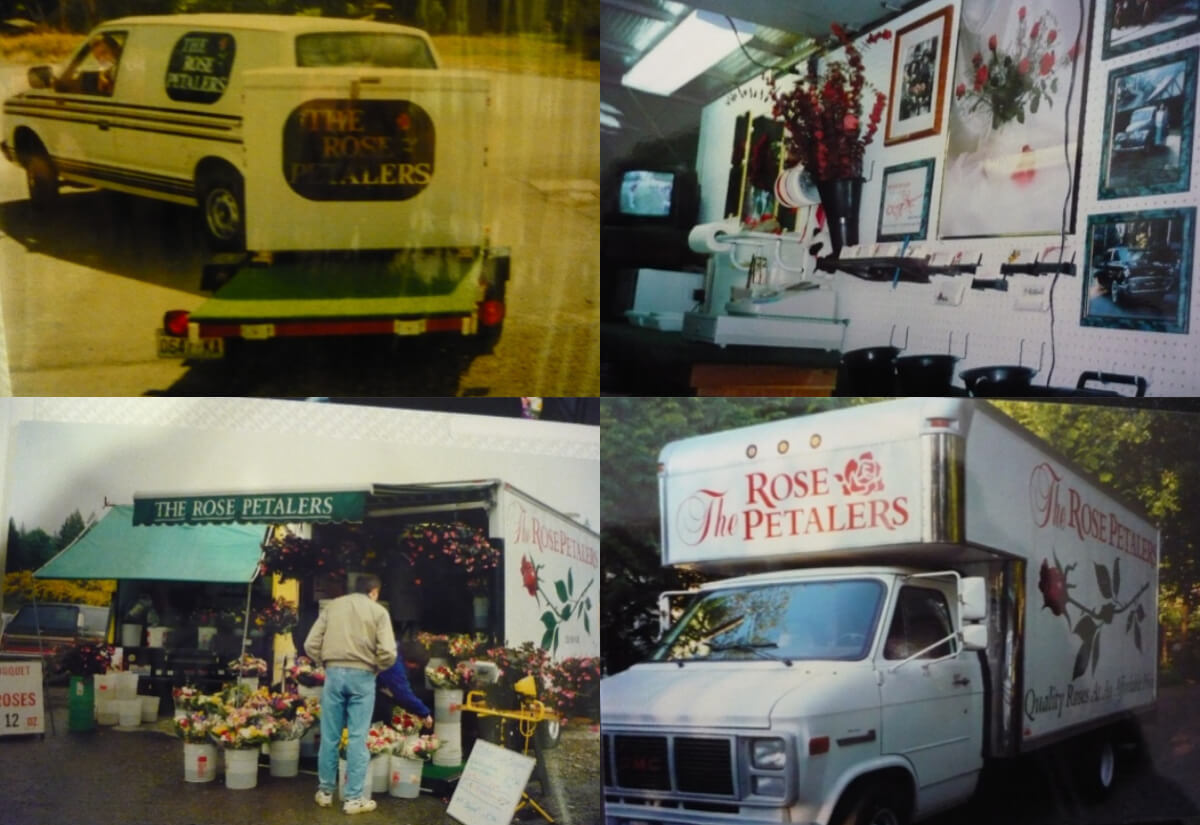 With Gene in the flower business, I often got flowers, but my favorite was when he selected just one perfect rose in a bud vase.
One Saturday in 1991, I was selling from one of the trucks parked at the Fruit Basket on Meridian in Edgewood, when I was robbed at knife point. An older man came in and selected a bouquet. After I had wrapped it and told him the price, he pulled a butcher knife out of his inner coat pocket and said, "I'll take the cash". I had been afraid of this type of thing happening to Gene and had counseled him, in that event, he should talk to the person, telling them they didn't need this on their record, and that he would just give them some money. What did they need? When it came to my real time experience, I asked, "How much do you want?" He said, "I'll take all of it!" And then, "You can keep the change".
It was fairly early in the day, so there was only the bills I had brought along to make change with and a few sales. I never wanted to be alone selling again. Even if someone else was with me, if a customer put his hand in his inside coat pocket like the robber did, I was apprehensive. It made me more cautious in public places, parking lots, or even opening my door at home. It changed me permanently.
Gene sold mostly roses and carnations at first and then branched out to more cut flowers. We hired a few people to help at holidays and the whole family got involved. Brad was doing it on his own. Bridget balked at becoming involved at first but later became our best arranger. Brenda, though busy with her own life, was a good and faithful helper on holidays. Mother's Day and Valentine's Day were a toss-up for which was busier. Besides being fun working together and making people happy with the beautiful arrangements, it was a lot of hard work. There were trips to the airport to pick up the shipments, getting up early on Monday morning to place orders, lifting heavy buckets of water, not to mention cuts from rose thorns.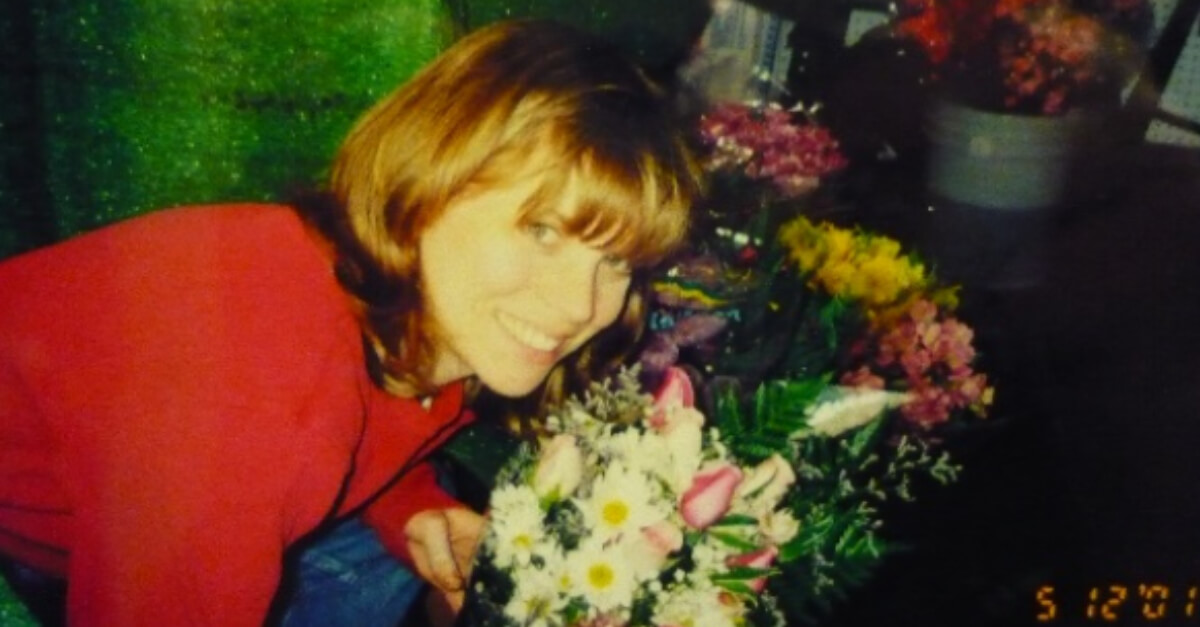 Since we were always busy on Mother's Day, it was sort of a tradition to go out to dinner with the whole family Sunday evening after everyone sold out. Sometimes the choice was Mazatlan's.
Besides volunteering at church and, later, being on staff, Gene kept the flower business going for 19 years. It wasn't a huge money maker but it made a living for us. I did the bookkeeping using the Quicken program on my home computer, filing the necessary business and tax reports.
In a way, the flower truck became a roadside chapel. When customers bought flowers for a sick person or funeral, Gene took the opportunity to pray for them and the situation. He kept note cards with prayer requests tacked up on mirrors and pictures above his work table. He could tell story after story of healings and marriages restored. It was a flower business but also a ministry.
When our church, New Heart, began a building program in 2005, Pastor Joe Parker thought he could oversee that as well as keep up with his pastoral duties, but it was too much for him. A foreman was hired to go ahead with the building and Gene was hired to be on staff and take some of the Pastoral responsibilities from him. He had pretty much always acted as an associate but now was on paid staff.
He sold his last flowers and closed The Rose Petalers in 2009, after 19 years in business.
The Move to Bay Lake
We loved living in the duplex. It was brand new when we moved in and was close to church and an easy drive to work. Still, in 1992, there were some financial complications. We should have purchased another home within two years of selling our home in Firgrove Estates in order to avoid paying capital gains tax. If we would have paid it the first tax year following the sale, it would have been $8000.00.
Because we had put so much money into renovations, we really didn't come out with that much clear and we thought we would be buying within the two year period. If we had, we wouldn't have had to pay capital gains at all. However, Gene had changed jobs (from the transmission shop to self-employment) and didn't have the required two years proof-of-income to get a loan. We looked around and nothing seemed to work. When the two years was up, IRS billed us for capital gains plus interest and penalties for a total of $12,000.00. We paid what we could on it and then consulted with a tax accountant. He told us he would try to set up a payment schedule for us with IRS and not to pay any more on it until that was done.
Meanwhile, in 1990, we purchased a cabin at Bay Lake. It was in pretty bad condition. It was actually a single wide trailer house with a living room, bedroom, and porch built on. The people we bought it from lived in it full time. The lady had given up using the kitchen drawers and just let mice live in them.  It was so terrible; I didn't want to tackle it. But we did.
We started by filling in all of the holes mice could get in with a spray foam that expanded and hardened. We scrubbed and painted, put down new carpeting throughout, and tiled the kitchen and bath. The wall paint, carpet, and tile flooring were light gray. We found paper accordion shades for the kitchen in the tangerine color, so that established the color scheme. I found Hawaiian floral fabric for a table cloth and buffet runner with those two colors plus hot pink and green. Gene hung mirror strips on the dining room wall above the buffet.  It began to feel livable. Our big gray sectional from the duplex barely fit in the small living room, but it did.  We kept warm with the standing wood stove.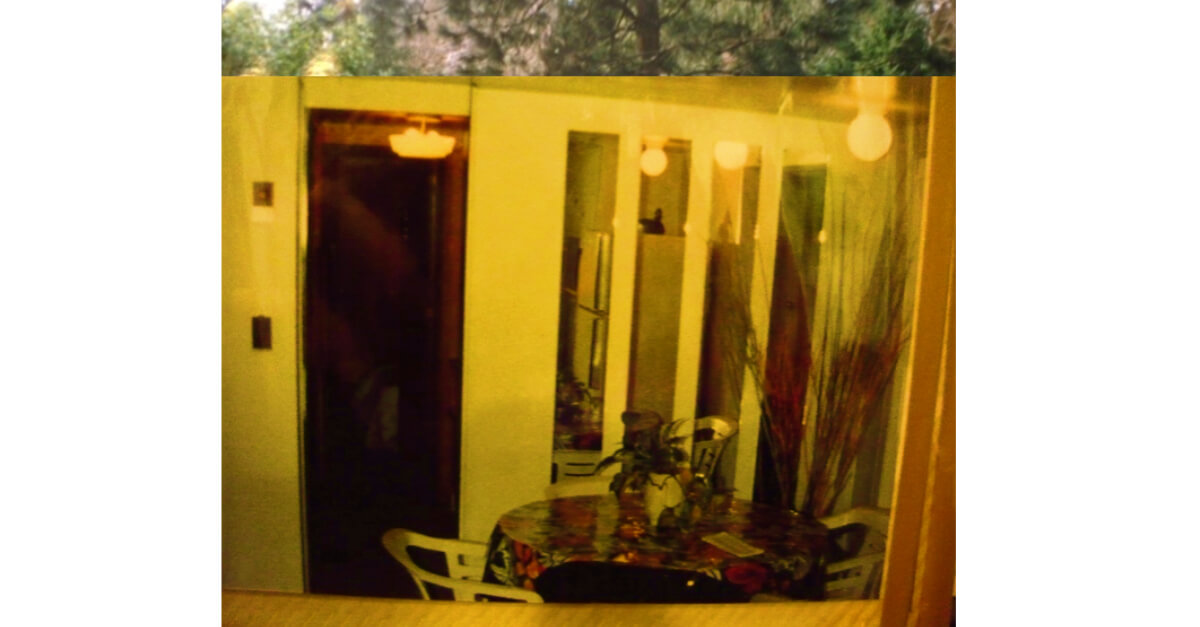 The large added on bedroom was spacious enough for some of our extra furniture and desk. The view toward the lake was framed by pretty leaves on a unique tree outside the bedroom window. We put a bed in the back "trailer" bedroom for guests, and let the second trailer bedroom be our dressing room with dresser and mirror. Once it was ready, I hosted a "girls retreat" for all of the family girls in September. That year or the next, I "retreated" to the cabin as often as I could to make memory quilts for each of our three kids and gave them to them for Christmas.
That Christmas, Bridget asked the Mall Santa for a red pickup and a cute boy. She didn't get the pickup, and it would be a couple more years before she met Steve. Gene and I got to fly to Florida to see my folks and went back to Lakeland to say hello to some of my former co-workers.