Mom wrote their story in 2014 in order to share their history with family and family to come.
I'm excited to now share their story with YOU!
In The Ziemke Story you will learn of their Christian Heritage, their early years, ministry, trying times, family, where they've been, and how they ended up where they are today!
We will endeavor to share a little bit of  The Ziemke Story each week as Mom wrote it to her children, grandchildren, great grandchildren, and beyond.
The Tillers
My mother, Baby Bernice, sat in her high chair watching her Dad, Newt Tiller, and a friend play horseshoes.  Her Mom, Mable, being busy with the rest of the children in the house, asked Newt to keep an eye on Bernice.   Newt gave little Bernice a wrapped plug of tobacco to play with, never thinking she could get it open.  When Mable came out of the house again, Bernice was covered with the black gooey stuff.  No telling how much she had ingested.
Mable was angry but not only about that.  She was concerned about Newt's way of life and the example he was setting before the children.  He was a good provider and loved his family but he liked to spend a lot of time at the pool hall.  Newt was a gambler, a card shark, smoker, drinker, and tobacco chewer. She prayed for him often.
A few years went by.  One day about 1926, Newt was out working in the fields when God spoke to him and told him to go to Louisville, Kentucky because He had a message for him there.  Newt had never heard from God like that before.  When he came in from the field, he told Mable what God had said.  It confused her a little because she had been the one praying and thought God would have spoken to her.  However, she was glad and quickly starched and ironed his shirts and prepared his suitcase to make the trip on the train.  The only person Newt knew in Louisville was his brother, Sam.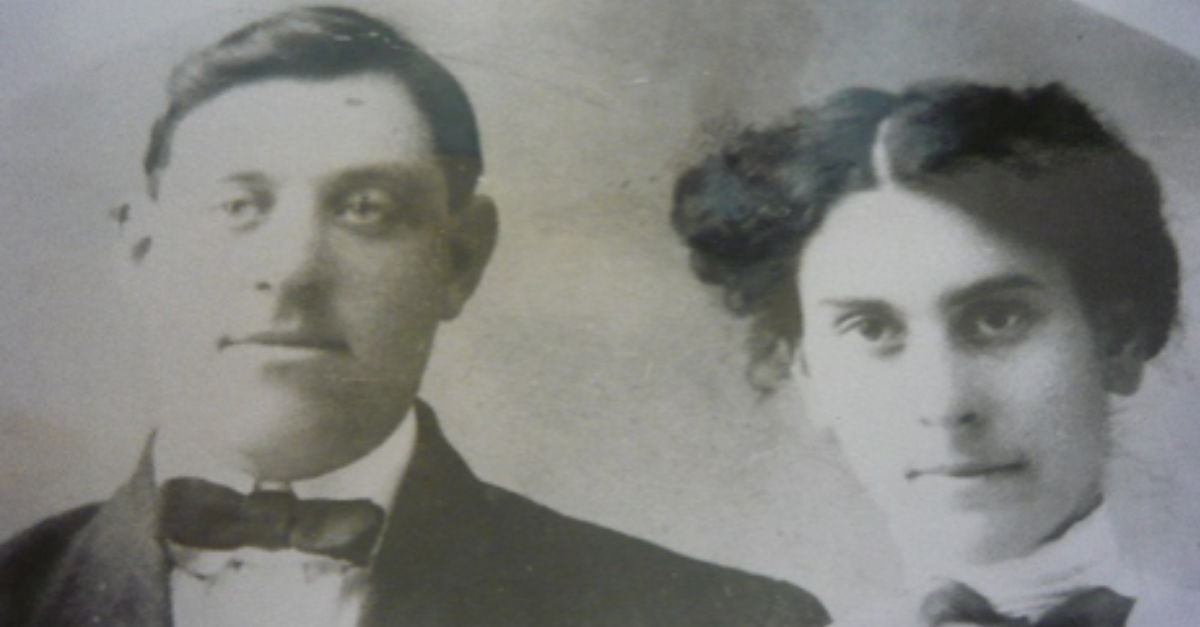 When Newt arrived in Kentucky, his brother Sam met him.  "Praise the Lord!  Come on in! Have I got something to tell you!" Sam said he had just been saved at a local revival meeting.  He had repented of his sins, been baptized in water, and received the Holy Ghost with the evidence of speaking in tongues.  Sam took Newt to the meeting with him that night.  Newt went to the altar and gave his heart to God.  He thought of everything he had done wrong and repented.
Newt stayed on with Sam a few days.  The preacher said he shouldn't go home until he also received the Holy Ghost.  Newt decided he wouldn't eat or drink until he got the Holy Ghost. A group of people had planned to come back and pray with him but right then as he prayed, he began speaking in tongues.  They took him to the river to be baptized.  A skim of ice had to be broken on the water but he didn't even notice how cold it was.
The next day, Newt sat down and wrote a letter to Mable.  He said: "I know now I am a child of God.  I'm not going to smoke no more, drink no more, but serve God and be the right kind of Christian".  In a few days he came home and told the family all about his experience.  That evening, after the cows were milked, they had a little service by the coal lamp in their home.  They began to sing from an old hymn book. They all felt the presence of God and accepted this new way of salvation.
There were five boys and four girls in Newt and Mable's family.  Wallace, Jerry, Kirby, Richard, Howard, Iva, Bernice, Lois, and Maxine.  Maxine had not been born yet and Lois, born in 1925, was a baby at this time.  My Mom, Bernice, born in 1922, was about four years old.  She remembered the event clearly.
A traveling preacher, Brother Scoffield (or Scoville), heard about the family and came to their home in Hawarden, Iowa to give them Bible teaching about twice a year.  Each time he stayed about a week.  When a new church started in Spencer, Iowa, about 100 miles away, Bro. Scoffield told them about it.  Newt visited that church, giving his testimony of salvation and asking if his family would be welcome there.  Of course they said yes.  About a year later the family moved to Spencer.
In time, Newt and the older boys, Wallace, Jerry, Kirby and Richard, became preachers.  Each of the boys started preaching at about age 16 – holding revival services in towns close to where they lived and worked. Then Wallace and Jerry started a church and Kirby evangelized.
Later, Kirby, Richard, and Lois all went to Apostolic Bible College in St Paul, Minnesota.
Three of the boys continued in the ministry and Pastored churches until retirement age.  Jerry in Omaha, Nebraska; Kirby in Bloomington, Indiana; and Richard in Muskegon, Michigan.  Lois was the pianist and choir director in her church in Corpus Christi, Texas for many years.  Wallace didn't continue in ministry, but became a successful businessman and inventor. Mom remembers him saying, "Bernie, I just want a little money to jingle in my pocket".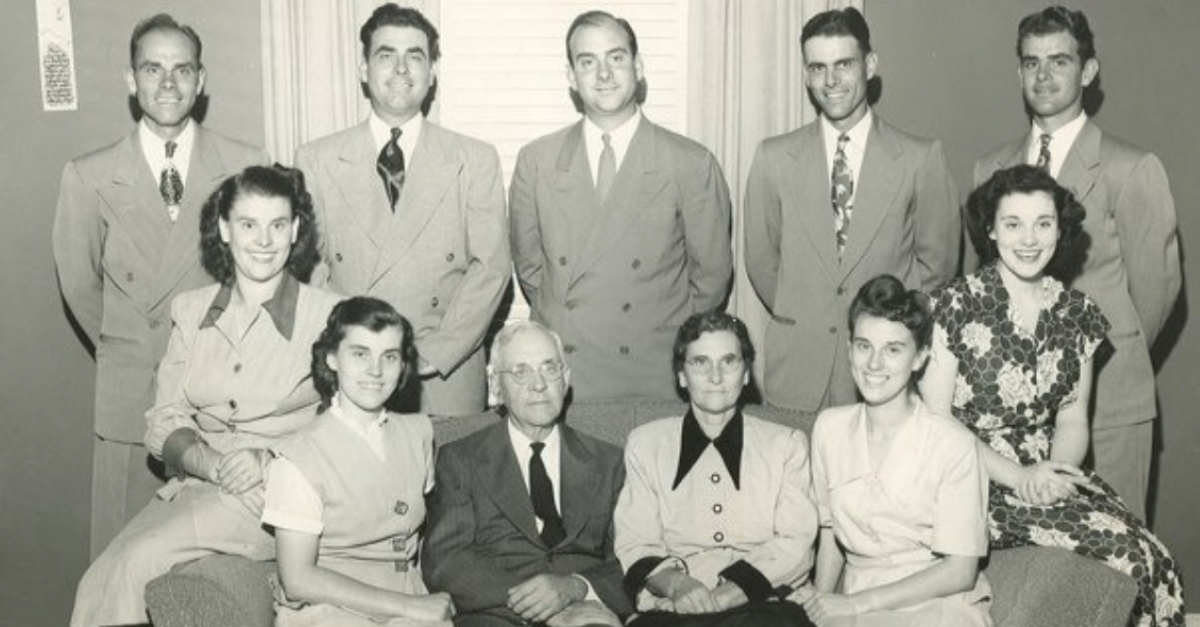 The Tiller family: Back row left to right, Wallace, Jerry, Kirby, Richard, Howard
Front row left to right, Iva, Bernice, Newton, Mable, Lois, and Maxine
Most of the next generation also became Pentecostal Christians.  Some of them became ministers, or wives of ministers.  That is the generation I am a part of.  My Brother, Rich, is both a teacher and preacher and has also worked at other jobs throughout his life.  Others of my generation in ministry are first cousins or cousins by marriage: Stan Tiller, Arnold Johnson, Bob Justice, and Kim Norris.  My brother-in-law and sister, Ron and Cindy Ens, pastor in Nanaimo, British Columbia, and of course you will read about my own husband's ministry in this story.
In the 4th and 5th generation, those in ministry or aspiring to it are: Steve Johnson, Brian Bailey, Anthony Ens, Chris Kuntz, Jody Schlottman, Ben Zbaeren, Gaylen Seidler, Scott Daniels, and very possibly others.  Aside from that, there are many family members who are active in church and community work, and in general just have a heart for others.
It is true that some of the original family, Iva and Maxine, strayed from the faith.  However, the effectiveness of the prayers of Newt and Mable continue on.   Children and grandchildren, even of those who strayed are being saved and called to ministry.  If you are a part of this lineage, you are "marked" for God.  Both Iva and Maxine gave their hearts back to God in old age.
That was the Tiller side. Newt and Mable were my grandparents, great-grandparents to my children and great-great-grandparents to my grandchildren.
The Mincers
Now let's talk about the Mincers.  I don't have as much information about them; however, Ladonna has done research that says we have a Christian heritage going back several generations.  I do, however, have a 3-ring binder labeled "Mincer Ancestors" in which there are copies of photos, documents, clippings and letters regarding the generation prior to Dad's parents. There were 7 children in my Dad's family: Donald, Orlo, Lyle, Roger, Althea, Madeline and Margaret.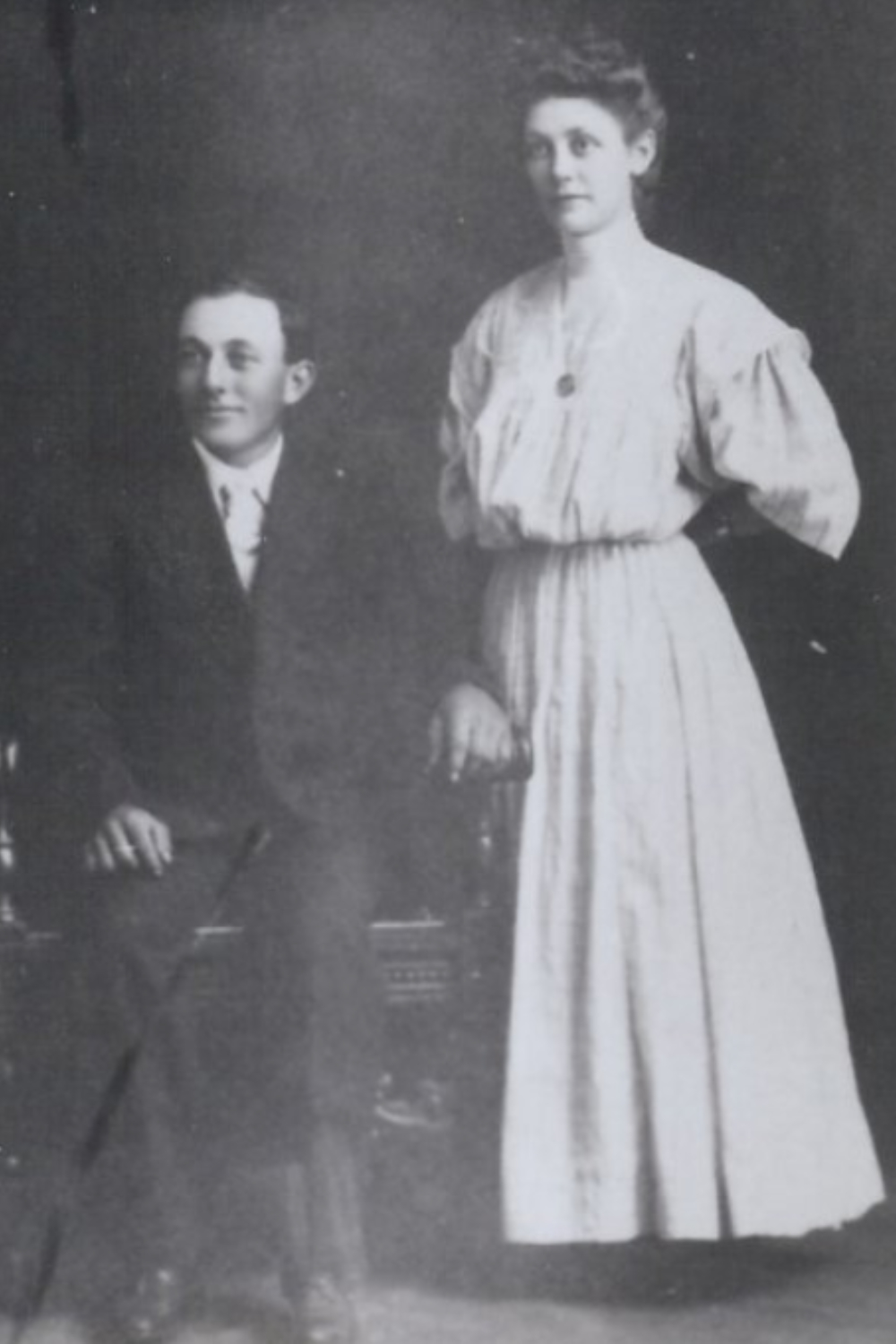 My Dad's parents, Walter Mincer and Lola Jordan Married on March 4, 1908.  They lived on Walt's dad William's farm in the Spencer area and hosted barn dances on that farm where my Dad, Lyle, lived as a child.  There was a little ditch-like creek that ran through the farm.  Dad said he and his brothers used to fish in it.  One year when evangelists came to town, they asked to use the Mincer farm to hold meetings.  Walt said yes.  They set up a big tent in the farmyard and Walt and Lola were saved in the meetings.  They started going to the First Pentecostal Church in Spencer.  When the Tillers moved to Spencer, Lyle and Bernice ended up in the same church.
Lyle was 13 or 14 when the Tiller family came to Spencer.  Bernice was about 6 years old.  Lyle remembered the family coming to church for the first time.  Bernice was holding her mother's hand.  They sat down two rows in front of him.  He thought she was such a pretty little girl.  Little did he know that several years later, they would fall in love.
When Bernice was 15, Lyle invited several girls to go for a ride in his new car.  A couple of girls got in the back seat and when Mom started to do the same, he put the seat down so that she would get in the front seat by him.  That began a courtship.  After a time, he asked her to be his little "canary in a gilded cage".  They married just after Bernice's 17th birthday, August 6, 1939.  You can read some of the "happenings" around their courtship in the "Lyle and Bernice" story, we hope will be forthcoming.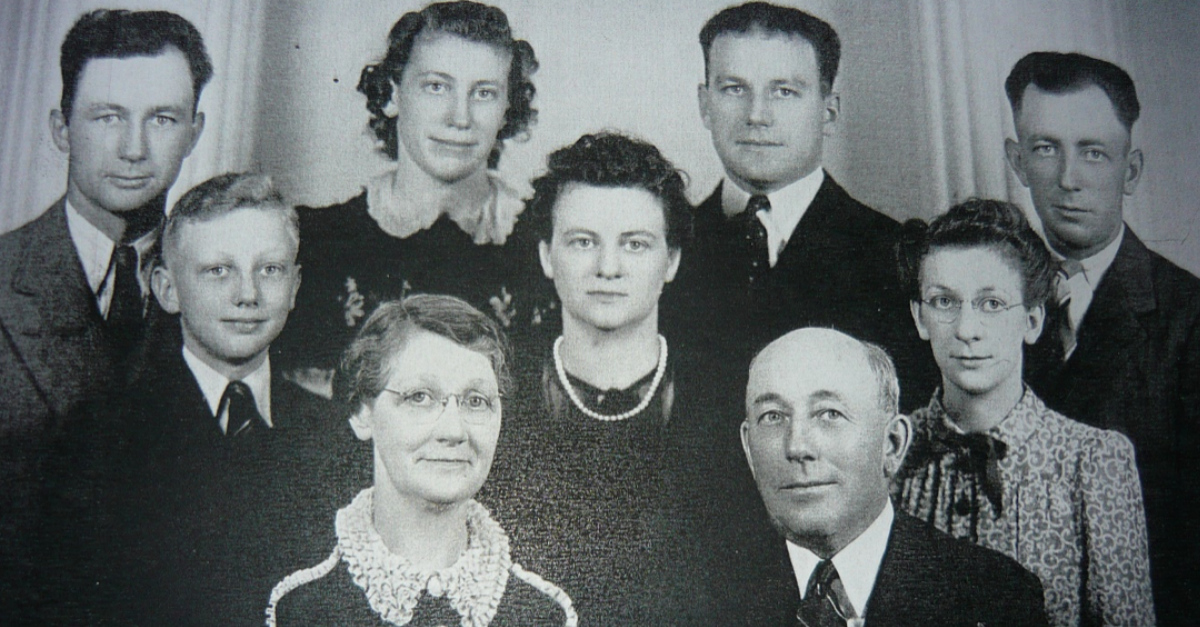 Dad's family: Back row – Donald, Margaret, Lyle, Orlo
Second row – Roger, Elthea, Madeline
Front row – Lola and Walter Mincer