Mom wrote their story in 2014 in order to share their history with family and family to come.
I'm excited to now share their story with YOU!
In The Ziemke Story you will learn of their Christian Heritage, their early years, ministry, trying times, family, where they've been, and how they ended up where they are today!
We will endeavor to share a little bit of  The Ziemke Story each week as Mom wrote it to her children, grandchildren, great grandchildren, and beyond.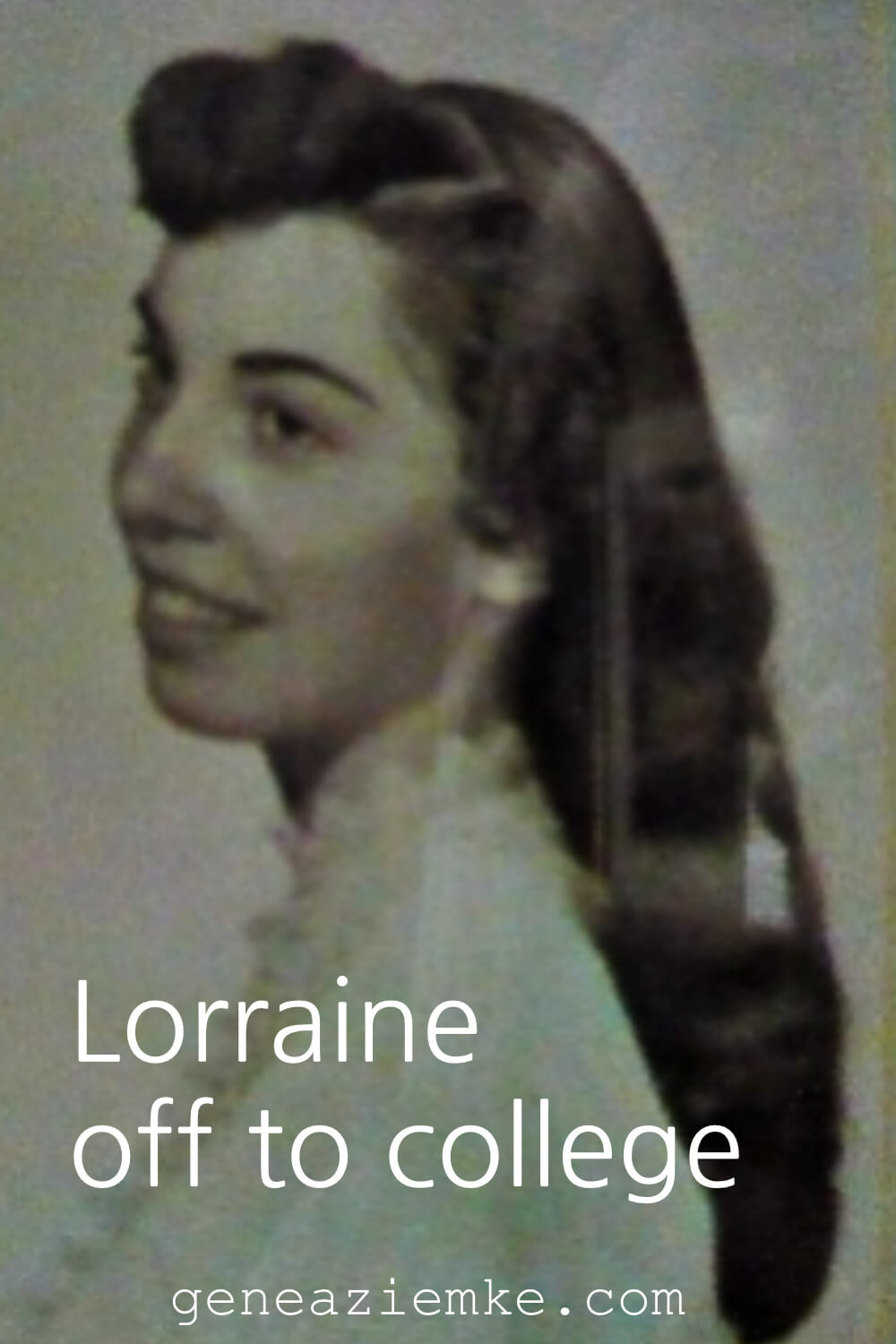 Lorraine – Off to College
As time came close to leave for college, I shed a lot of tears.  I had never been away from home for longer than a few days at camp.  When Sunday rolled around, I cried, knowing this would be the last Sunday at our church.  I cried at meal times, knowing this would be the last Wednesday, Thursday, Friday, I would be eating with the family.  I wouldn't see my brother, Rich, the little girls, or my parents for a whole nine months.
I was in communication with the school, Conquerors Bible College, and let them know when I would be arriving so that someone could pick me up at the train.  Lavonne and Joe were both working and not available.
I packed a small trunk and a couple of suitcases and took the train from Omaha to Portland, a 36 hour trip.  I took a lunch and a small blanket, in case I was cold, trying to sleep in the seat. I cried as we left the station but the farther I got from home, the less tears came.  I knew I was not to stay home.  God's will for me was in Portland.  As the miles were left behind and Portland drew nearer, I learned to let God be my strength. Though I missed my family, when I got there I was fine.  I never cried from homesickness but sometimes I was a little sad looking at the moon at night and thinking about it being the same moon my family could be looking at.  There were no cell phones.  Long distance calls were few and far between.  There was no going home for Christmas … not until school would be out in the spring.
Brother Edwin Judd picked me up at the train. I had let the school know I would be wearing a beige plaid summer suit so they could identify me.  I had no idea who I would be looking for.  Brother Judd approached me with a smile, "Lorraine?"   He was also picking up another student at the same time coming from a different direction.  He drove us to the college and I began putting things away.
There were two large dormitories with dusty pink walls. The small door-less cubicle type rooms were divided by half-walls about five feet high.  I had a room to myself.  Since I had arrived a couple of days early, I had time to get the room in order. I used "Scratch-remover" to shine up the old very worn chest of drawers.  I had a single bed, the chest of drawers, and a built-in closet with adjoining shelves and desk-top.  I hung a pink curtain over the closet, put a few knick-knacks out and purchased a mirror for the wall.  The décor was my favorite, green and pink.  At Christmas break, however, the staff met with the girls to discuss closing one dorm to save money on the heating bill.  We agreed.  At that point Sherrie Sullivan became my roommate.  The boys took the single beds to the shop and made bunk beds out of them.  I got the top bunk.
The college had a center courtyard and building wings all around it in a circle.  There were the boys' dorms, the girls' dorms, some apartments for faculty and married students, the classrooms, offices, kitchen, and the common areas like the rec room and dining hall.  The study library was on the other side of the circular hall, opposite the main entrance.  There was also a laundry room.