Mom wrote their story in 2014 in order to share their history with family and family to come.
I'm excited to now share their story with YOU!
In The Ziemke Story you will learn of their Christian Heritage, their early years, ministry, trying times, family, where they've been, and how they ended up where they are today!
We will endeavor to share a little bit of  The Ziemke Story each week as Mom wrote it to her children, grandchildren, great grandchildren, and beyond.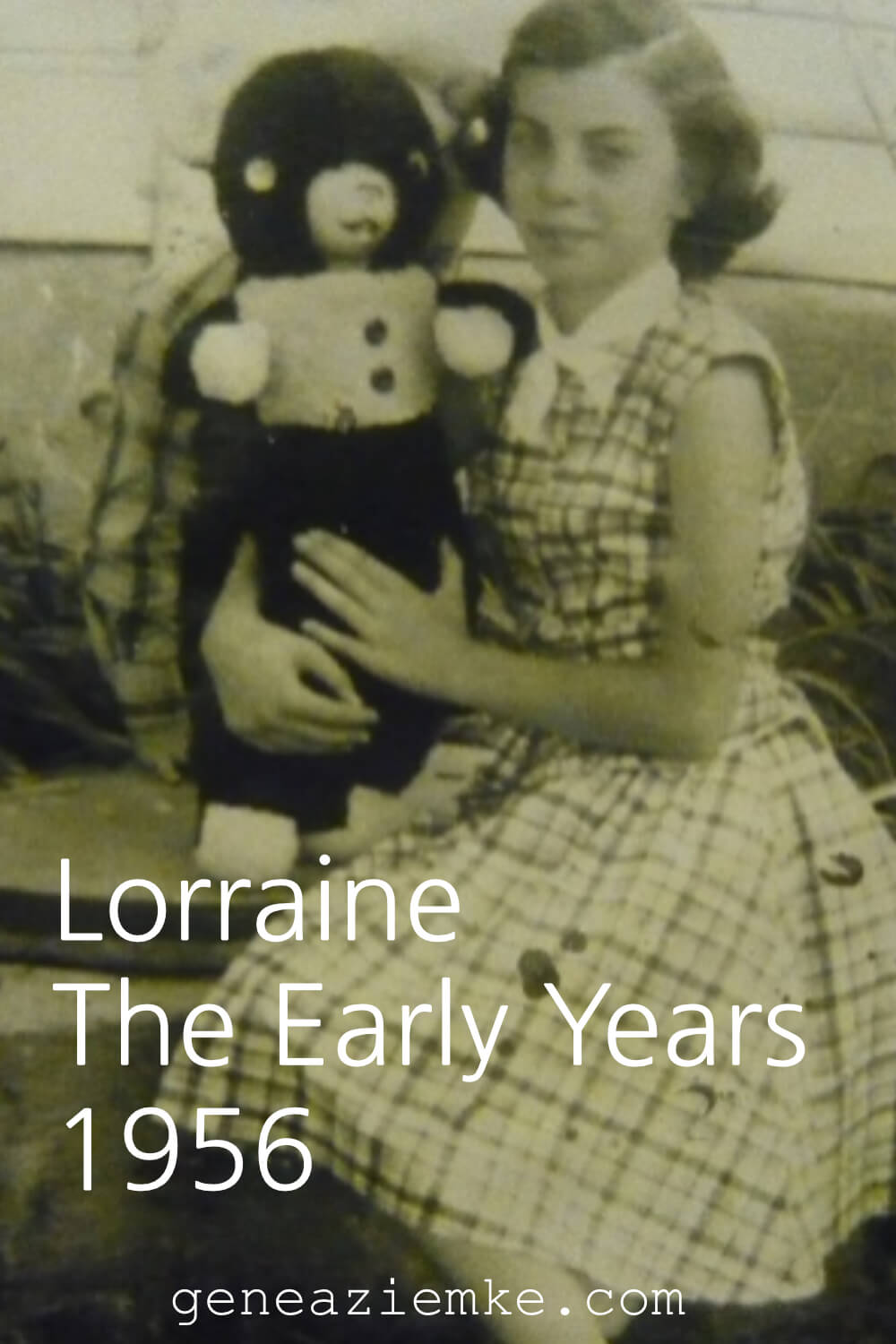 Lorraine – The Early Years – 1956
My Mother's brother, Jerry Tiller, was the Pastor of our church in Omaha, Nebraska; 30 miles from our home.  There were evangelists that came from time to time to hold nightly meetings called "revival meetings".  There was Evangelist Blind Davis and Sister Lyndell Krause but our favorite was Sister Willie Johnson.  She was a black lady who always wore a white dress, like a traditional nurse's dress, and a white cape.  She would get to preaching and jump off of the platform and that cape would fly up.  I was 14 years old during one of those meetings and was seeking for the Holy Ghost with evidence of speaking in tongues.  After each service, I went to the altar to pray.  Because we lived a distance away, we couldn't always attend.
One Sunday, I stayed after morning service with my Grandma Tiller.  Uncle Wallace offered to bring me home after evening service.  That night, I prayed at the altar.  Surely I wouldn't get the Holy Ghost tonight, I thought, because my Mom wasn't there.  Still, each time I prayed, I felt I would be that much closer to receiving it.  I just relaxed and praised God.  It wasn't long before I was speaking in tongues, a beautiful heavenly language.  It was so enjoyable to feel so blessed of God.  I was excited to tell my family.   That was May 6, 1956.  Mom conveyed to me that it would be an easy date to remember: 5-6-56.
After that, it seemed that when I read the Bible it was clearer to me.  As Uncle Wallace said, it meant I was a "new babe in Christ", ready to grow in Him…not so much that I had "arrived".  In fact, I learned that fairly soon.
My Mom was talking to me about something, I don't remember what, and the idea rose up in me that I was a mature person now and I could say just what I thought.  So I said, "I feel like slapping you right now".  (I chuckle now as I write that.)  She called me down quickly and I learned my lesson that I had a lot of growing to do and still needed to bridle my tongue.
I never went back on God or desired the things of the world but, being the quiet personality I was, neither did I seemingly make any great impact on the lives of others in my school.  Only eternity will show whether there were those who were impacted by my life since I made a decision to live for Christ.
A bunch of young people from our church attended a Youth Camp in Oklahoma one summer.  WC Parkey was the Youth President and ran the camp.  It was the only Christian Youth Camp I ever got to attend growing up.  Initially, I hated it.  It was unbearably hot and humid.  The dorms were lined with cots with no room except on or under the cot for your belongings.  There was no air conditioning and no warm water for showers.  Flies were everywhere.  I wanted to go right back home.  When the services began and I felt God's blessings, it made it all okay.  I woke up in the middle of the night to find someone else in my bed.  I pushed and shoved and told the girl to get back in her own bed, only to eventually find I had sleep-walked and got in the wrong bed.  I also attended a 4-H camp for a few days one summer which I don't remember much about it except we did a few crafts that I still have.
We didn't always get to attend church when the weather was inclement, and usually not the Sunday evening services.  Routinely Mom put a pot roast with potatoes and carrots in the oven on Sunday morning and it would be very well done when we returned.  Dad made a last minute decision whether he could go, depending on what was happening with farm animals or weather.  When we couldn't go, we had our own little service at home.  We sang and had testimony service.  My brother, Richard, always wanted to be the preacher.  He said he wanted to be a preacher when he grew up.  After we got a TV, Rich said he wanted to be on TV when he grew up.  When asked what happened to his goal of being a preacher, he replied, "Oh, I'll advertise Bibles".  (Chuckle).
Speaking of TV; I had seen pictures of televisions in comic books, but didn't think they were real.  I guess they were available in the 40's, but began to be more widely available in the 50's.  We were invited to Uncle Wallace's house in Bellevue to see the new TV they had purchased.  It had a seven inch screen.  A couple of years later we got one.  By then the screens were larger, but just black and white.  Howdy Doody, Lone Ranger, Lassie, Millionaire, Doris Day, The Milton Burl Show, Dinah Shore, I Love Lucy, and The Nelson's were some of the shows I remember enjoying back then.  Oh, and Art Linkletter's House Party where he interviewed children.  It was sort of our tradition to have toast spread with the often advertised Skippy Peanut butter on Sunday evening while watching TV.
Honey bees had made a long time nest in the front porch roof of our old farm house and seemed to find their way into the house, especially when it was warm.  My Dad tried different methods to get them to move – smoking them out, etc, but I don't think they left until the house was torn down the year after I went off to college.  One warm summer night, sleeping on the recliner in the living room, which was cooler than upstairs, a bee got under my sheet and stung me.  We all had a few stings from those pesky bees.
Not a lot of time was given to vacations.  We made trips to see relatives in Spencer or Omaha which ever we lived opposite.  The trips seemed long – about three hours.  We knew we were half-way when we saw the big square brick house with an American flag on a high hill.  That gave us a little hope that we were making progress.  Once, Dad had a new pickup he wanted to drive, but we couldn't all fit inside.  He built a canopy cover out of ply-wood for the back, put blankets and pillows in, and we girls and Mom got in.  The trouble was it was pitch black – no windows.  We complained until Dad stopped and left the door flap slightly open so some light could come in.  There were no fast food places along the way.  Mom got up early and fried chicken and made sandwiches and snacks to take along.  In fact, sometimes with little notice from Dad as to when he would be able to make a trip, she would stay up all night to pack and prepare.
Cousins who came over loved to play on the wooden stairs of the old farmhouse, sliding down on their bottom.  We'd remove the vent cover of the hole in the floor of  the big upstairs room and stick a leg through or just listen to the conversations below.
We children switched bedrooms once in a while.  Rich usually had the corner room on the road side.  After his room was wallpapered freshly with a cowboy motif, he was heard talking in his sleep (actually standing up in bed) and saying, "My Daddy rides that horse way, way, way up there".
Lavonne and I shared the back corner bedroom or sometimes the big room, but the best use of the big room was for parties.  We had a Ping-Pong table which could be folded and pushed to one side.  We invited friends over for birthdays, graduations, and so forth.
I took the very small bedroom for a while.  It wasn't much bigger than a walk in closet but it was all mine.  The year Lavonne went to Tulsa, Oklahoma, to attend a UPC Christian high school, I redecorated the back corner bedroom in green and pink for me. I had won a green clock radio and a big teddy bear by selling magazines for school.  We painted some homemade shelves green and had green and pink floral wallpaper.  I helped paper the closet which had plaster on a slanted ceiling.  When I came back upstairs after dinner, I saw that the wallpaper moisture had loosened the plaster and it had all fallen to the floor.  What a mess. Mom had to help me fix it.  I enjoyed decorating and liked that room a lot.  That was where Cindy, trying to find a space on my green shelves, was upset with all of the 4-H books and vehemently said, "Get the 4-H out of here"!  Mom and I laughed in that it sounded like she was swearing.  She was probably three years old.
I was in the 3rd or 4th grade when I started to feel bad about my front teeth protruding a little.  I remember hearing a conversation where Mom used the words "inferiority complex" in speaking of someone else.  I asked her what that meant, and when she explained it, I said "I think I have one".  Not long after that they decided to take me to an orthodontist.  The only one we knew of in our area was our Dentist's daughter who had just graduated and became a part of their practice for orthodontic work.  A few months into the process, she got married.  On her honeymoon she and her husband were in an auto accident.  She suffered brain damage and couldn't return to work.  Her parents just finished up with me as best they could so the process was not totally completed.
It may have also been 4th grade when I discovered the extent of my allergy to milk.  I knew I didn't like milk and wouldn't take it when I went through the lunch line at school. There was an issue with the school not being reimbursed from the government for lunches unless the milk was drunk.  I was told I would have to start drinking the milk.  The first day I did, just as I left the lunch room, the whole lunch upchucked without warning.  It was so embarrassing but from that point on I wasn't made to drink milk.
I probably had other allergies that weren't identified.  There were times when the family was going on an outing and we were all excited.  After breakfast, we'd get in the car to go.  Everyone else still seemed excited but I had a headache.  Looking out of the car window, the bright sunlight hurt my eyes.  Now I think it was probably after having eggs for breakfast, a food I've been found to be sensitive to.
There was a junior court for an event at school where a prince and princess were chosen from each class to be a part of the celebration.  I was chosen as princess in the 4th grade and Mom made me a pretty pink polished cotton dress with netting over the long skirt and a pink ribbon belt with a little artificial flower sewn at the waist.
Our cousin, Duane Tiller, had gone to a Christian high school in Oklahoma for his freshman year and he and Uncle Wallace encouraged Lavonne to go.  Mom was in favor of it, but Dad not so much until Mom talked with him about it.  Then he relented.   Lavonne, being a very social person, might have made Mom concerned about the friends she was keeping company with in Carson.
Lavonne said it was a very fun year, even though there were a lot of strict rules.  Before she left, Mom made her all new clothes with three-quarter length sleeves in order to abide by the clothing standards. She remembers calling home periodically to talk with Mom.  Once in a while Dad would get on the phone and say his trademark statement, "I still love you a little bit, honey"; it would bring her to tears every time.  Even though the school had strict rules, she learned from some of the other girls to wear a little make-up.  When she came home she taught me to wear a little to conceal the dark circles under my eyes.  We weren't to wear lipstick, but she used a little Mecuricome (a dark red topical antiseptic containing mercury) to redden her lips instead.
Mom continued to make Lavonne and me skirts and dresses. She did the same for some of our school friends whose Moms couldn't sew.   Before school started each year, she tried to have our clothes ready and in the closet. She hung a long closet rod along one wall of the big upstairs room we were then using as our shared bedroom and hung a kind of red gunny sack curtain over it.  She showed me that I had enough dresses to wear a different one every day for two weeks in a row.
One year, before I started 7th grade, Mom took me to Council Bluffs shopping.  We found a little dress shop (something like a "5, 7, and 9" shop) and she had me try on dresses.  There were so many pretty ones and I liked them a lot. We picked out several of them at $7.00 each.  I was amazed.  Never had that happened before.  I asked, "Can we afford it"?  I wore one of those dresses when the Des Moines paper came to photograph our family and farm in 1957.  It was my most loved dress, with gores of green, beige, and rust in the skirt.  It made me feel so grown up and pretty.
Letters, Letters, Letters
The years 1956 – 1958 seemed to be quite a time for letter writing.  I was 14 – 16 years old.  There was no social media or cell phones.  We had telephones, of course, but most places required long distance charges and that was more expensive than the three cent stamp.  I had a pen-pal through school, Gary Skillern.  We exchanged at least a dozen letters.  He was a rock collector from Cheyenne and even sent me a few cut rock samples.
A couple of my school friends, Virginia and Darlene, had moved to adjoining towns and we exchanged letters, even though we were only about six miles apart.  Darlene had a crush on my neighbor, Sherman, and kept asking me to tell him hello for her.  Very possibly she wouldn't have written so many letters without that focus.
It was the Elvis Presley era.  We felt so bad when Elvis went into the military.  In a letter, Darlene asked, "Do you like Elvis Presley?  I sent away and got a big picture of him and he autographed it.  It is a very good picture.  I want to go to his new movie when it comes to Oakland.  I like all of his songs such as Hound Dog; I Want You, I Need You, I Love You; and Don't be Cruel."  She bragged to me about the new TV her Dad just bought. "It's just beautiful. It's made of blond wood and has a 21 inch screen.  It stands on the floor and has a loud speaker on both sides."  That actually described one we had as well.
Phyllis, the Baptist girl who had moved from Carson to Albany, Missouri, corresponded.  Letters from girls often came with writing on the back of the envelope.  For the postman to read, it was:
D-liver
D-letter
D-sooner
D-better
There were a couple of service guys, Johnny and Wallace; and a couple of guys who were going to school with Lavonne in Tulsa, or later in Stockton, California: James, Bill and Leon.  Of course, she had asked them to write me.
I got a few letters from my cousins, Kay Mincer and Joyce O'Hara.  They stayed in Spencer when we moved to Carson but Kay's family moved to Carson later and we graduated in the same class in 1960.  Unbeknown to me, my Mom kept all of those letters and gave them to me just a couple of years before she passed away.  I hadn't looked at them until this writing and had forgotten about most of them.
Joe W., whose older brother David liked Lavonne, wrote to me from Whiting, Iowa, a small town about 100 miles North.  He was in a Pentecostal church there, played guitar and sang, and sometimes came to fellowship meetings in Omaha.  I saw him a few times but thought he had only written a few letters.  As I perused them and threw them away, I counted over 25 letters he sent over a two year period.   One of his letters said that his father kicked him out of the house for being in his Senior Class Play.  How sad.
I also had several letters from my doting big sis, Lavonne, when she was in Tulsa in 1956-57, and then in Stockton for Bible College in 1960.  They always started out: My Darling Sister, or Rainie Darling, or Rainie Baby Doll.  And they usually mentioned someone I should write to or that I would be getting a letter from.  She also tried to encourage me to stay faithful to God.
Here I was, this little Iowa girl, getting letters from all over and mostly because of my sister, Lavonne.  I don't know how a young man from Pentecostal Bible Institute in Alberta Canada got my name.  He wrote to say he had come to our farm at one time but hadn't let anyone know it was because he liked me.   I don't remember him at all.