Mom wrote their story in 2014 in order to share their history with family and family to come.
I'm excited to now share their story with YOU!
In The Ziemke Story you will learn of their Christian Heritage, their early years, ministry, trying times, family, where they've been, and how they ended up where they are today!
We will endeavor to share a little bit of  The Ziemke Story each week as Mom wrote it to her children, grandchildren, great grandchildren, and beyond.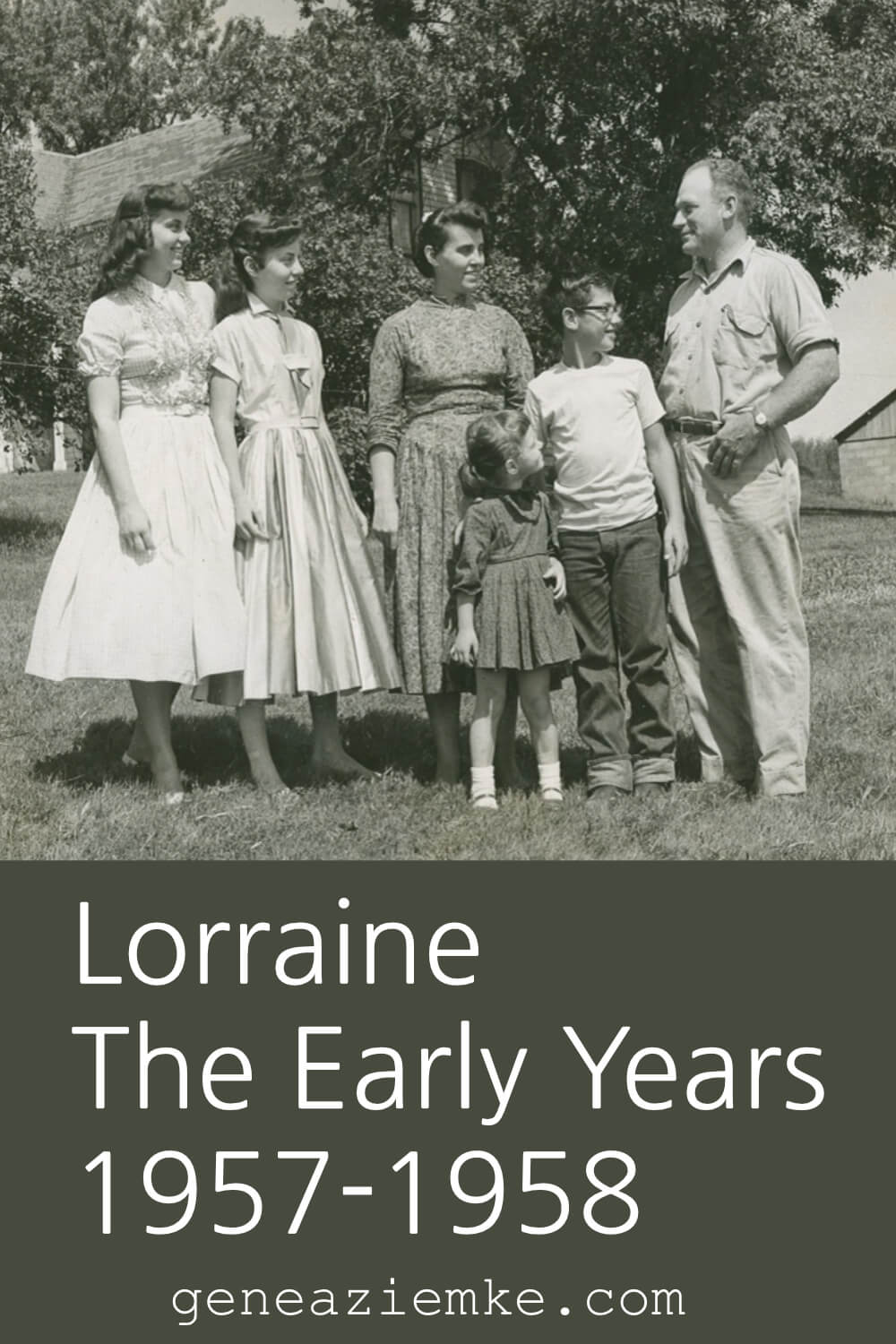 Lorraine – The Early Years – 1957
The Year Dad was voted Iowa's Best Farmer of the Year!
By 1957, through his soil conservation efforts and building up a run down farm, Dad was in the running for Iowa's best farmer of the year, and came away with the grand prize.  Our family was pictured on the cover of the Des Moines Register news magazine where an interview with Dad was published.  We went to the college in Ames, Iowa, where he received his award.
Farming economics were unlike that of city folks who worked day jobs with weekly or bi-monthly pay.  We had plenty of money when the cattle or crops were sold and sort of slim pickens in between.  Mom did a good job of gardening, canning, and freezing produce. We girls helped with that.  Besides the big garden plot adjacent to the house, potatoes were planted on the bottom ground near the lake.  When they were ready, we girls scurried behind the tractor to pick them up once "forked" to the surface.  They were stored in the cellar along with our home canned goods.  Of course we usually had a freezer full of meat.  Things like clothing and shoes might have to wait or be handed down.  Mom improvised by saving clothing that could be remade into something new and buying fabric found on a good sale.  She built a closet of sorts to house these items in the upstairs hall of the farm house.
One day, when I found out I needed to wear a white shirt and black pants for a band event the next day, she stayed up almost all night to remake an old pair of black pants into something I could wear.  I played the snare drum.
I wore saddle shoes until they were in pretty bad shape – my only shoes.  I recall Mom asking Dad to come and look at my shoes and he agreed, "we have to buy her a new pair".
The country road was just dirt for the first few years we lived there.  When it rained, it got too muddy for the school bus to come for us.  Dad might drive us the half mile to the corner.  Once, coming home from school, we tried to make the walk and Lavonne lost one of her shoes in the mud.  Dad trudged and searched until he retrieved it.  We only had one pair each, after all.
Dad built a cement block milk-house adjoining the barn.  The milk from the milkers was brought there and dumped into 10 gallon cans and placed in the large coolers until the milk truck came by each morning.  A certain part of the milk was separated from the cream.  Mom often ran the separator.  It was a big job to clean all of its parts after each use.  The milk house was hosed down daily and kept immaculate.
Uncle Wallace had pony rides in a few different amusement parks.  For several years he boarded his Shetland ponies on our farm in the winter.
Lavonne and I often had the duty of rounding up the cows for milking.  We walked or rode the little Shetland ponies.  We made up a song to sing as we brought the cows in, naming each one as we sang.  It went like this:
Cow time, time to get the cows;
Cow time; go right past the sows,
Cow time; go up over the hill,
And be careful that you do not take a cow pie spill.
One Two Three…let me see
Four Five Six…oh that cow kicks
Seven Eight Nine…we're doing fine
Ten Eleven Twelve…that's the end of the line.
(And then we'd sing the names of the cows).
Other times, if the cows had lingered close to the barn, Dad could just say "Come Boss", and they would file in for milking.  I can't say that I'd remember all of the names, but there was usually a Daisy and a Bessie.
Other than that, Dad didn't depend on us girls to do the farm work.  When Rich got older he did a lot, and then, of course, Terry in later years.  If I drove the Ford-Ferguson tractor, it was just for fun.  Dad did offer us, along with the guys, a penny a piece to cut down the cocklebur weeds.  When the cats didn't take care of all the mice in the corncrib, Dad offered a penny a piece for any we could kill.  I got several by watching for tails sticking out between the boards, pulling the tails to flip the mouse out and then hitting it on the ground with a board.  I still can't believe I really did that but it is a vivid memory.
A little stray dog showed up and Dad named her "Trixie".  She became a wonderful cattle dog.  Dad was pleased that it was in her genes and often bragged on her.  She was a shepherd collie mix, white with brown spots.
Dad continued milking the small dairy herd at the Carson farm until his back got too bad, and then he raised beef cattle, fattening them for market.  He watched the market prices go up and down and tried to get his cattle there on a good day.
Summers in Iowa were very warm and quite humid as well.  We had big fans in our bedrooms to try to keep cool.  Dad eventually framed an air-conditioner into the dining room window to help keep the downstairs livable.  The fan at the foot of our bed in our upstairs bedroom shorted out and caught fire in the middle of the night.  It made a horrible noise.  Richard, in the next room, woke up and shouted "F I R E"!  Mom and Dad came running.  It was put out with no additional problem.  It was a good thing it made that horrible noise or we might not have awakened.
Living in the Carson area meant we were about 30 from Omaha, Nebraska where my Mom's brother pastored the church we attended.  Her brothers, Richard and Jerry Tiller, Pastored together until Richard moved to Michigan, then Jerry became the Pastor.  After meeting in a rented facility, they bought a church at 20th and Oak in South Omaha.  A lot of work was done on that building over the years.  We had Sunday school classes in the basement.  My teacher in the youth class was Uncle Howard.  He was a good teacher.  One of the things he said that I always remembered was something to the effect of, "some things the world offers may look good but there is nothing out there that can compare with being a Christian".
Uncle Jerry was a good preacher – short and to the point.  He was pretty good at keeping our attention, even though we may have been tired at times or have wandering minds.  Sometimes I was so sleepy at the end of service but came alive in the "after glow".  Folks went to the altar to pray.  If the young people weren't there praying, Uncle Jerry called us up to sit around the piano and sing together.  I enjoyed that.  It seemed to be an encouragement for those who were praying.  If folks were seeking the Holy Ghost, we might sing "Fill Me Now, fill me now, come Lord Jesus fill me now.  Fill me with thy Holy Spirit.  Come, oh come, and fill me now"; and other choruses.
If we were praying at the altar, we were often shedding some tears.  We used floral cotton hankies.  When one got wet with tears, we'd lay it across our lap to dry and use another; then rotate when the first was dry again.
As teens, Lavonne and I sometimes sang duets together in church.  There was a special meeting in Kansas City, Missouri and Uncle Jerry invited us to go along and sing.  We had new dresses and hats and felt pretty confident.  Dad was home, sick in bed with a bad cold, but Mom told us to go ahead with the trip.  I don't remember much about singing because, during the service, Pastor Black got up and announced that a call had come in for urgent prayer for Lyle Mincer.  Dad had pneumonia and was critically ill.  His eyes had rolled back in his head.
Pastor Black had a soft heart toward Dad because when Dad was a single young man playing his saxophone while traveling with evangelist Joe Barnet; Pastor Black was a child at one of the churches where they ministered.  He was now a pastor and an accomplished saxophonist and attributed his acquiring a desire to play from Dad.  The congregation and we girls prayed with abandon for God to heal our Dad.  He was better when we got home.  As it turned out, the new Doctor in town who had been seeing Dad was barred from the hospital for some past finding.  Any other Doctor would have sent Dad to the hospital, rather than letting him get so near death at home.
Lorraine – The Early Years – 1958
Ladonna was born when I was a sophomore in High School.  We girls, Lavonne and I, pretty much took over the household duties and caring for the younger ones while Mom was in the hospital.  When she brought Ladonna home, we all thought she looked like a little Indian Papoose.  She was so cute and had a lot of thick black hair.  We put a feather in it and took her picture.
Here is just a fun commentary I wrote in July of 1958.  I think Ladonna would have been five months old, Cindy 5, and Richard 11 years old:
Ladonna Jo now weighs 17 pounds, slobbers like mad, and can't seem to keep that long hair out of her eyes.  She sometimes surprises us by glancing our way and with a knowing look says "Hi!"
Lacinda Sue doesn't know whether to be happy because she got a new doll, sad because the dog killed her cat, or glad because her cousin came to play.  We laugh when she says she likes "mushmellon" lots but cantaloupe not so good.
Richard Lyle is just plain sad because most of his rabbits died while he was in Spencer, some of his swimming lessons were cancelled because of rain, and his girlfriend broke her arm.
In summer we rode the school bus to a nearby town; Avoca, Iowa, for swim lessons.  I never became a good swimmer though.
Mom and our neighbor lady, Ivadelle Forestall, started a 4-H club for the girls in the area.  We did a lot of projects but the main one was sewing.  Lavonne and I made chartreuse colored dresses with tiered skirts and decorated each tier with green and brown rickrack.  Mom had to help me finish mine.  The rick rack had to be sewn on by hand…what a job.  We were proud of them when we were done and I think they even won a blue ribbon at the fair.  In 1956 I became the president of our local 4-H club.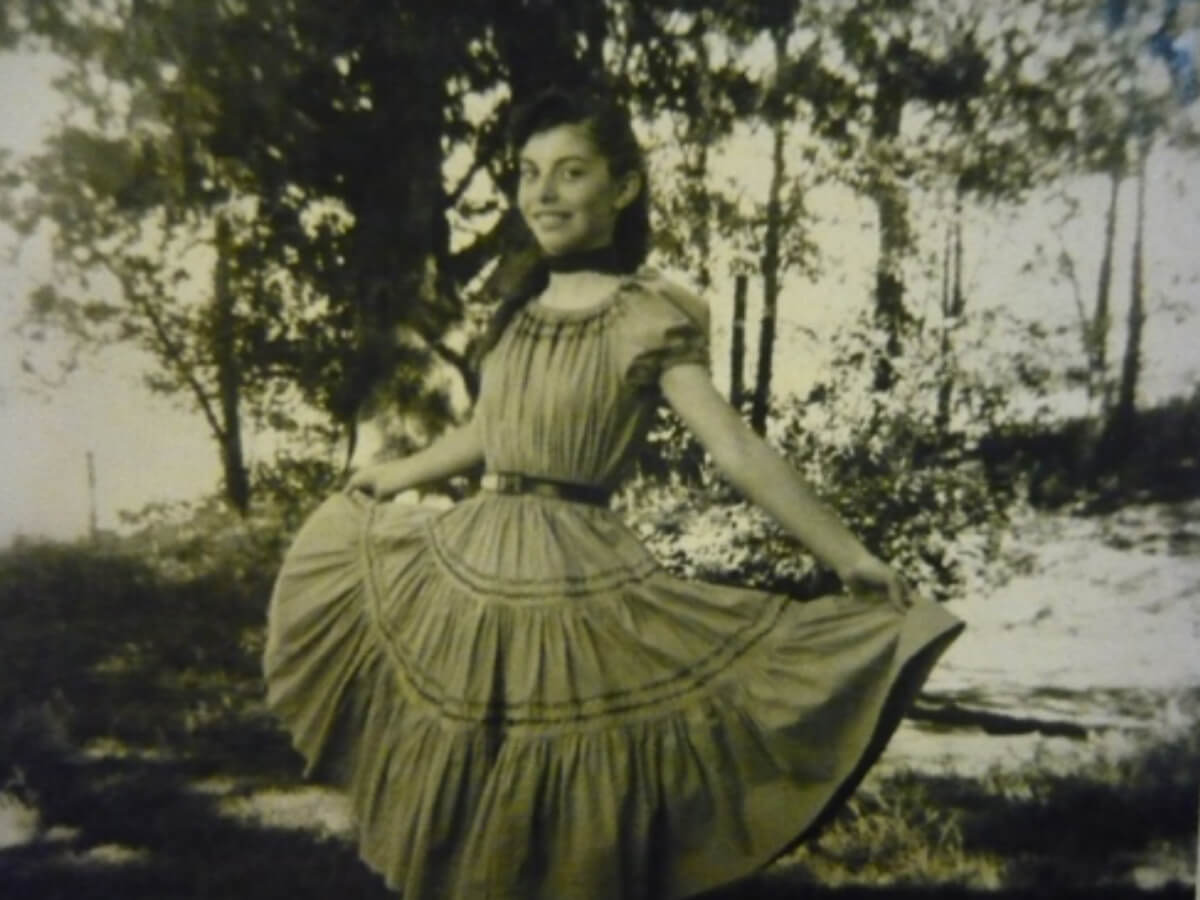 My 4-H sewing project                    
Slumber Party
We didn't have a lot of birthday "parties" growing up other than just with family members but when I was 13, Mom gave me a surprise birthday/slumber party and invited several girls from my class.  She made parties fun and came up with good games, food, etc.  One of the games was "Who, What, and Where".  One person would go around the room whispering a name of a real or fictional person in each person's ear.  Another would whisper an activity, and a third person would whisper a place.  You were to remember and say the resulting sentence, which may have been: "I am with Captain Kangaroo, skiing, in the bathtub".  Most of the time it was pretty funny.
Though I had friends in school, I was a bit of a loner.  Being from the country, it seemed the city girls knew each other better and got together socially after school.  Lavonne was more outgoing and sometimes went to town to spend time with the girls in her class.  Two or three times I had a sleepover with someone at their house or ours but that was about it.
We were diligent learners and enjoyed school for the most part.  Lavonne's class had about 12 or 13 students.  She graduated as Salutatorian.  There were 32 in my class.  There were always two boys, Terry and Rodney, who got better grades than me.  However, in the 6th grade, when we were given IQ tests, my score came out higher than theirs.  After that, our teacher constantly nagged me to do better in class assignments.  I knew I was already doing my best.  It got to the point that I not only didn't want to go to school, I couldn't make myself go.  I'd get up and ready in the morning but as soon as I saw the bus coming down the hill, I froze and wanted to run and hide.  Mom then took me in the car but as we neared the school, I crouched down on the floor of the car.  I wanted to go but just couldn't force myself to.
Finally, Mom went to talk with the Principal and, probably, the teacher too.  The teacher apologized and things got better after that.  She took the pressure off me and had me run errands for a few days before she put me back into studies.  According to Mom, I was like a different child and came home from school with a happy expression on my face.  Mom was relieved and so was I.
At any rate, I didn't graduate as a Salutatorian but in the top 10% of the class with a GPA of 3.429.  I was in a couple of school plays.  In my junior year, I played an old lady.  I had a main part as a 15 year old girl in our Senior Class play, "Onions in the Stew".  I had 283 lines to memorize.  Some of our relatives from Omaha came to see it.
It was winter when the time came for senior pictures.  Because of the snow, we missed one appointment with the photographer in Council Bluffs.  When the next appointment came, snow was piled up on the side streets.  A car was parked on the downhill side we needed to pass going uphill.  Mom gunned it hoping the piled snow would give way enough to let us pass the parked car.  Instead – it threw us back into the path of the parked car and broke out the headlamps of both vehicles.  On third try, I finally got my senior pictures.
I don't remember my Mom ever spanking me but I could have blocked that from my mind.  My Dad might have spanked me a time or two but even that is a vague memory.  They were both very good parents who loved us and taught us well.  I was a compliant child who wanted to please.  Somehow, in my teenage years, my Mom was stirred to preach me a message about "the little foxes that spoil the vine".  I wrote notes on it in my Bible.  When she did, it was like she was preaching with a godly anointing.  It probably saved me from something I might have faced in the future.