Let me preface this THOUGHT FOR TODAY by First expressing my Gratitude for the Blessing of Life and The Faithfulness of GOD.
Not withstanding, Life is Embraced and Conditioned by Reality!
The Journey of Life has its ups and downs, its twists and turns, and its triumphs and tragedies.
We struggle with Rejection, Health Issues, Financial Dilemma, and Loss of a Loved one.
There are Times in our Journey when our Dreams have Shattered, our Hopes have Dissolved, our Future seems Bleak & Uncertain.
Ask Joseph, Job, Peter, Paul and on and on.
But then, in the Darkness and Storms of Life, comes a Word of Encouragement!
THROUGH!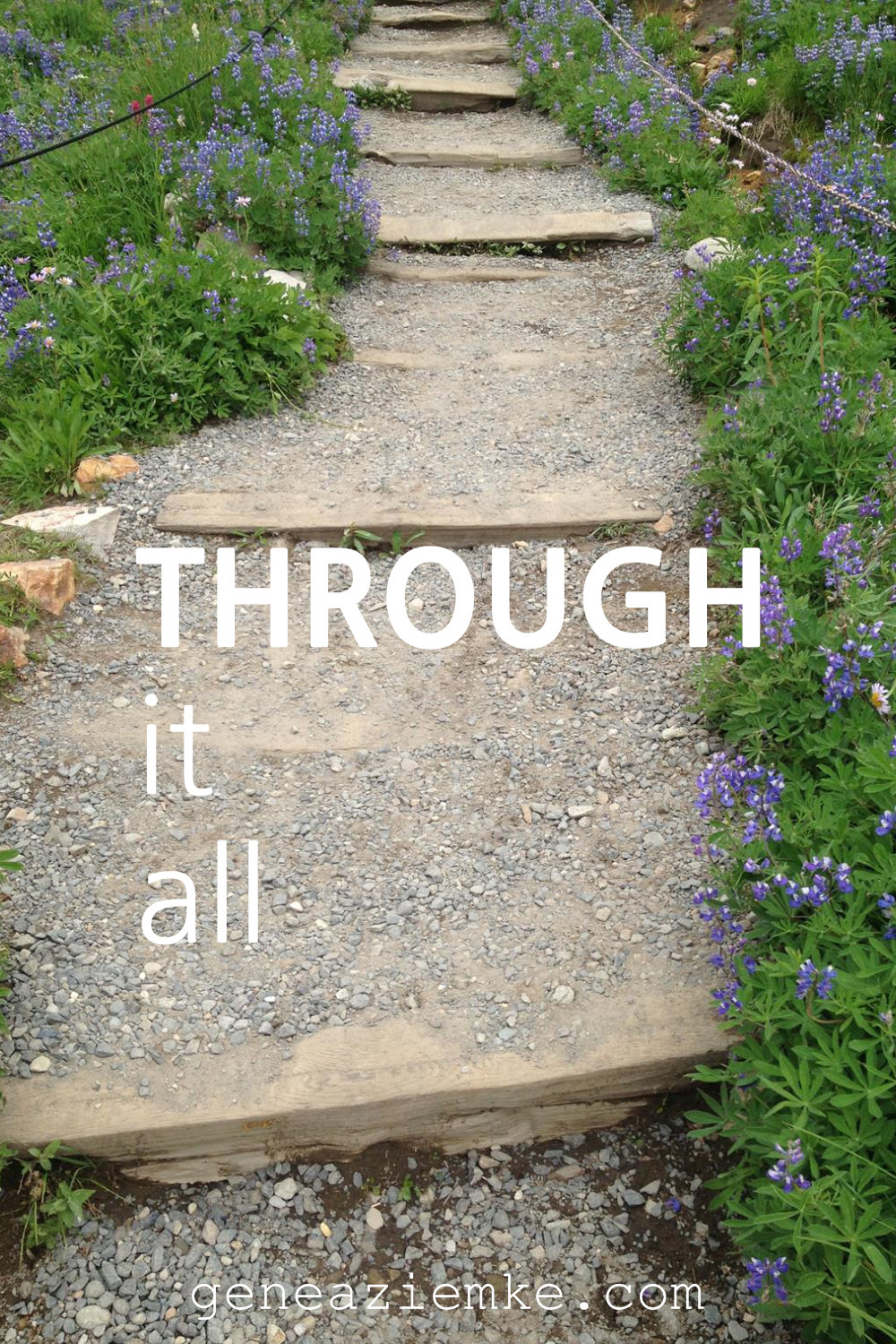 A Song from the CD "Unplanned & Unplugged " (Mark Lowery) has enraptured my mind night and day for three weeks!
"I'm gonna make it, HE's already said that I would.
I'll keep on Trusting HE's working everything out for my good.
HE walks beside me, Heaven is in my view.
I'm gonna make it THROUGH!"
Isaiah said: "When you pass THROUGH the waters, I will be with you; And THROUGH the rivers, they shall not overflow you. When you walk THROUGH the fire, you shall not be burned, nor shall the flame scorch you." (NKJV, Isaiah 43:2)
Ask Moses: THROUGH the Red Sea!
Ask Joshua: THROUGH the Jordan River!
Ask Three POW's: THROUGH the Fiery Furnace!
"You have caused men to ride over our heads; We went THROUGH fire and THROUGH water; But You brought us out to rich fulfillment." (NKJV, Psalms 66:12)
"Blessed is the man whose strength is in You, whose heart is set on pilgrimage. As they pass THROUGH the Valley of Baca, they make it a spring; the rain also covers it with pools." (NKJV, Psalms 84:5-6)
Song from "Yesteryear"
"I thank GOD for the mountains,
I thank GOD for the valleys,
I thank GOD for the storms HE's brought me THROUGH.
If I never had a problem,
I'd never know HE could solve them,
I'd never know what Faith in GOD could do.
THROUGH it all,
THROUGH it all,
I've learned to Trust in JESUS
I've learned to Trust in GOD,
THROUGH it all
I've learned to depend upon HIS WORD."
In 2012, we embarked on an 8,500 mile Ministry Trip to the Midwest. On our return, 50 miles west of Denver, Colorado on I-70, we climbed an 11,180 foot mountain pass and went THROUGH the Eisenhower Tunnel (1.693 miles). Obviously there are restrictions on height and width if you want to pass THROUGH that tunnel. Point being: complying with those restrictions allowed you to Enter, Go THROUGH, and Exit to arrive at your destination.
"Yea, though I walk THROUGH the valley of the shadow of death, I will fear no evil; For You are with me; Your rod and Your staff, they comfort me."
"Surely goodness and mercy shall follow me All the days of my life; and I will dwell in the house of the LORD Forever." (NKJV, Psalms 23:4, 6)
"No test or temptation that comes your way is beyond the course of what others have had to face. All you need to remember is that God will never let you down; he'll never let you be pushed past your limit; he'll always be there to help you come THROUGH it."
(MSG, 1 Corinthians 10:13)
All things work together for good to them that love GOD and are the called according to HIS purpose.
The Prerequisites are:
1. Love GOD
2. Fulfill HIS Purpose
THROUGH is an encouraging word!
Click To Tweet