Mom wrote their story in 2014 in order to share their history with family and family to come.
I'm excited to now share their story with YOU!
In The Ziemke Story you will learn of their Christian Heritage, their early years, ministry, trying times, family, where they've been, and how they ended up where they are today!
We will endeavor to share a little bit of  The Ziemke Story each week as Mom wrote it to her children, grandchildren, great grandchildren, and beyond.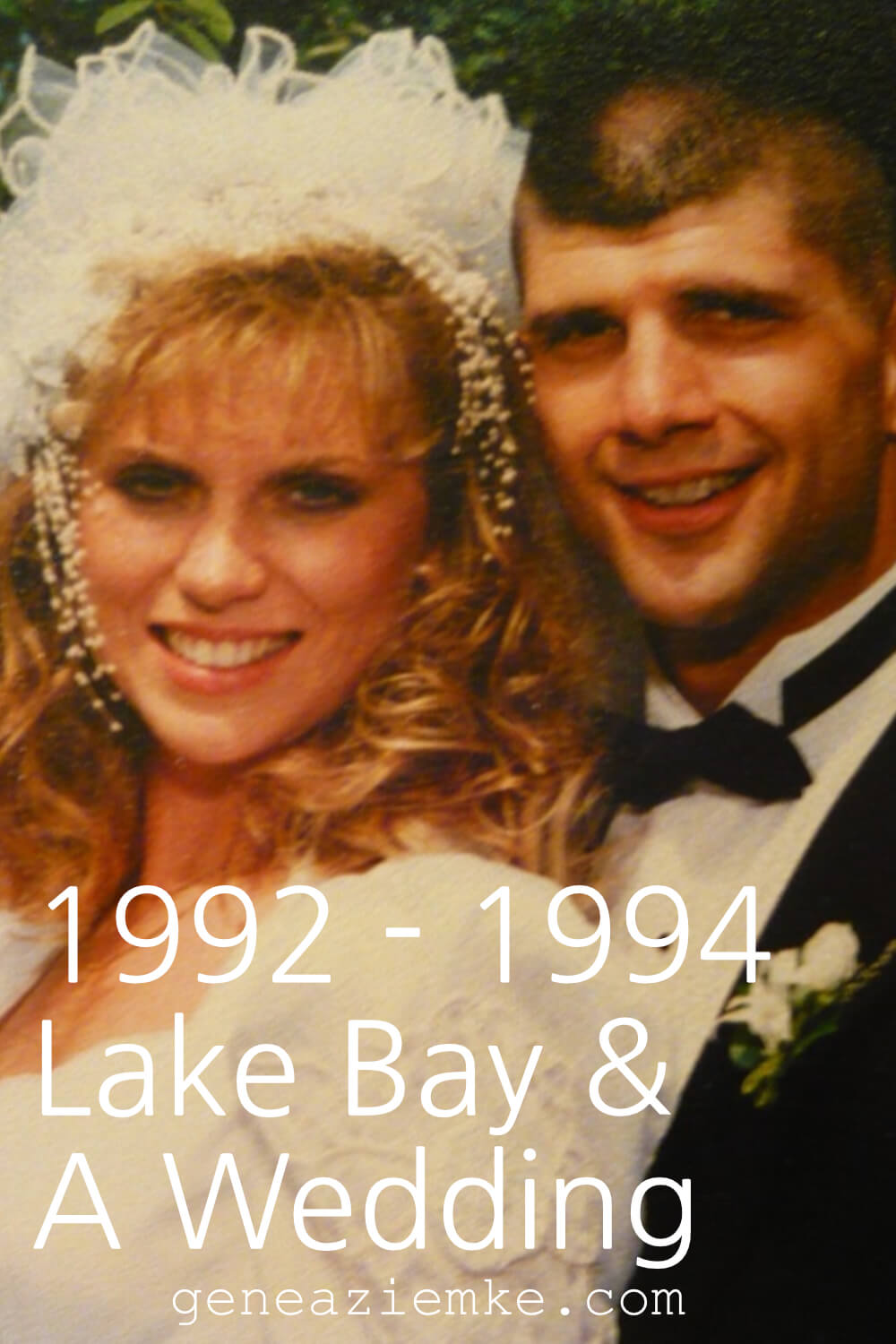 1992 – Lake Bay
We had fixed up the cabin to use as a get-away but ended up living in it from August, 1992 to July 1996. It made sense financially. Gene continued working in "The Rose Petalers" business, though it was at least an hour drive from Lake Bay to Bonney Lake, where he parked his truck to sell flowers. I continued working for DSHS in Tacoma, about a 45 minute drive, and put all of my earnings in the bank to save for the capitol gains tax. The IRS just wouldn't communicate but, suddenly, took the money that was in my account and put a lien on our cabin property.  Ugh!
Gene built a carport for his 1950 Chevy and a roof covering over our stash of fire wood. He built two storage sheds; one for tools and manly things and one for household storage. One day when we were away, someone broke in and stole several tools and, from the household shed, took the ironing board. I guess even thieves want to have their shirts pressed.
We both enjoyed being at the Lake, but especially Gene. My drive to and from work when it was dark and rainy in the winter was not fun. It was hard to see the curvy road, especially when oncoming car lights made a glare. One windy day, in the daylight, I was following Gene in his truck toward home when a tree was blown down and fell across the road. I could see it coming just as I approached and thought if I gunned it, I would be out of the way. I was wrong. It fell across an electrical line and hit my car. Branches were across my windshield.  The electrical line had enough give to allow it to hit my car, make some dents and knock the bumper loose, and then spring back up a bit. My car went lumbering on under it. Gene had pulled over to see what happened to me and, when he saw the mess my car was in, said "What happened".
That did it for me. I told Gene I was going to move into town whether he wanted to or not. We began looking for a place to buy. We had a realtor looking for a place centrally located between my work and his, and close to our church. We looked at several places with her and sometimes stayed in town after church on Sunday to drive around looking ourselves.
Quick Quotes from my letter to Mom June 5, 1992
Brenda and Brett opened their espresso bar this week. They had hoped to start out selling about 50 cups a day. Instead they did 100 or more cups the first 3 days, each day. The mall where they are is really not a regular mall. The only "real store" in it is the Genesis Bible Book Store. Otherwise, it's businesses like architects, meeting rooms, etc. and the Pay'N Pak corporate headquarters for the area which has 300+ employees.  Across the parking lot is the big Pay 'N Pak Store.
Brett took this week off from Real Estate to get it opened. Bridget works 6 to 2 Monday through Thursday at the espresso business and sells flowers for us Thursday afternoon/evening and all day Friday. I checked on her today at the Fruit Basket location. Brenda is anxious for the business to do well enough that she can quit her job at Barbee.
Brad has hired a couple of guys to sell flowers for him at his 2 main locations. He takes a third location some days.
1993
On New Year's Day, we went to Leavenworth with Bonnie and Joe. It was so very cold but we weathered a beautiful horse drawn sleigh ride through the snow and warmed up with hot chocolate afterward.
The end of March and first of April found us in Maui with Bonnie and Joe. We had such a good time with so many activities.
In July, Ladonna and I went to a Family Reunion in Iowa.
1994 – Bridget and Steve
While we were still living at the cabin, in 1994, Bridget married the love of her life, Steve Stoker. The decision was made just a couple of months before the wedding date so they could marry when he was home on leave from the Army. We chose a nice Bed and Breakfast on Fox Island for an outdoor wedding by the waters of Puget Sound. Bridget and I met at David's Bridal in the Tacoma Mall during my lunch hour one day and, surprisingly, she found a beautiful dress that was available without an ordering delay.
It was lovely weather the day of the wedding. The green grass with an arrangement of white chairs facing the floral decorated arch and a view of the water beyond was a perfect setting. As I led Bridget to the aisle, Grandpa Mincer, Gene, and Brad, all took their places in the aisle to receive her hand and pass her along from one to the other until Brad presented her to the groom and said something to the effect of: "Steve, we the grandfather, father, and brother, present to you Bridget, our granddaughter, daughter, and sister to become your wife." Gene performed the ceremony. Uncle Pete sang "The Rose". Bridget's friend, Lisa, was the maid of honor and Steve's college friend, Trey, came to be the best man.
We catered the food from the Rose Petaler's box truck with the help of Noreen Haynes and my sister Lavonne. Noreen had made the cake as well. Uncle Jeff prepared the bouquets and boutonnieres and arranged flowers over the wedding arch. There were daisies aplenty on the property, which he used for little Destinee, the flower girl. Brenda had just given birth to Lindsey two days before. We were so happy she could come with her new baby.
Bridget had just a few days with Steve before he was deployed to Korea. When he returned several months later, they moved to Tennessee and were stationed at Fort Campbell, Kentucky. When they returned from Kentucky, they again moved into the duplex, having renovated it with all new flooring and cabinets.
Bridget worked at Costco while Steve completed his Bachelor's degree in 1997 and, in 1998, his Masters at PLU. His love for football allowed him the opportunity to be on the coaching staff there. It was a wonderful chance for him to learn the coaching methods of Frosty Westering and grow as a Christian under Frosty's mentorship. At the same time, he became a 7th grade science teacher. Steve was baptized in our church (Word of Truth) in 1996.
Little Justine was just three months old in 2000, when Steve got an opportunity to coach at Penn State college in Iowa. It was so sad to see them go. With time on her hands and little Justine as an infant, Bridget found a MOPS (Mothers of Preschoolers) group to attend there. The job didn't look as promising long term and they moved back eight months later. When they moved back to Washington, Bridget was the instigator of getting MOPS started at our local church and led it the first few years. Steve resumed his teaching position as well as coaching football at PLU. He coached thirteen years, including when they were the Division III Champions, and has the ring to prove it.
When Jackson came along in May of 2002, the duplex began to feel a little cramped. They bought a house in Milton and moved into it in August of 2004.
Steve continued pursuing educational opportunities which allowed him to advance to Dean of Students and then Vice Principal.