Mom wrote their story in 2014 in order to share their history with family and family to come.
I'm excited to now share their story with YOU!
In The Ziemke Story you will learn of their Christian Heritage, their early years, ministry, trying times, family, where they've been, and how they ended up where they are today!
We will endeavor to share a little bit of  The Ziemke Story each week as Mom wrote it to her children, grandchildren, great grandchildren, and beyond.
1940 Gene's story
Family and Church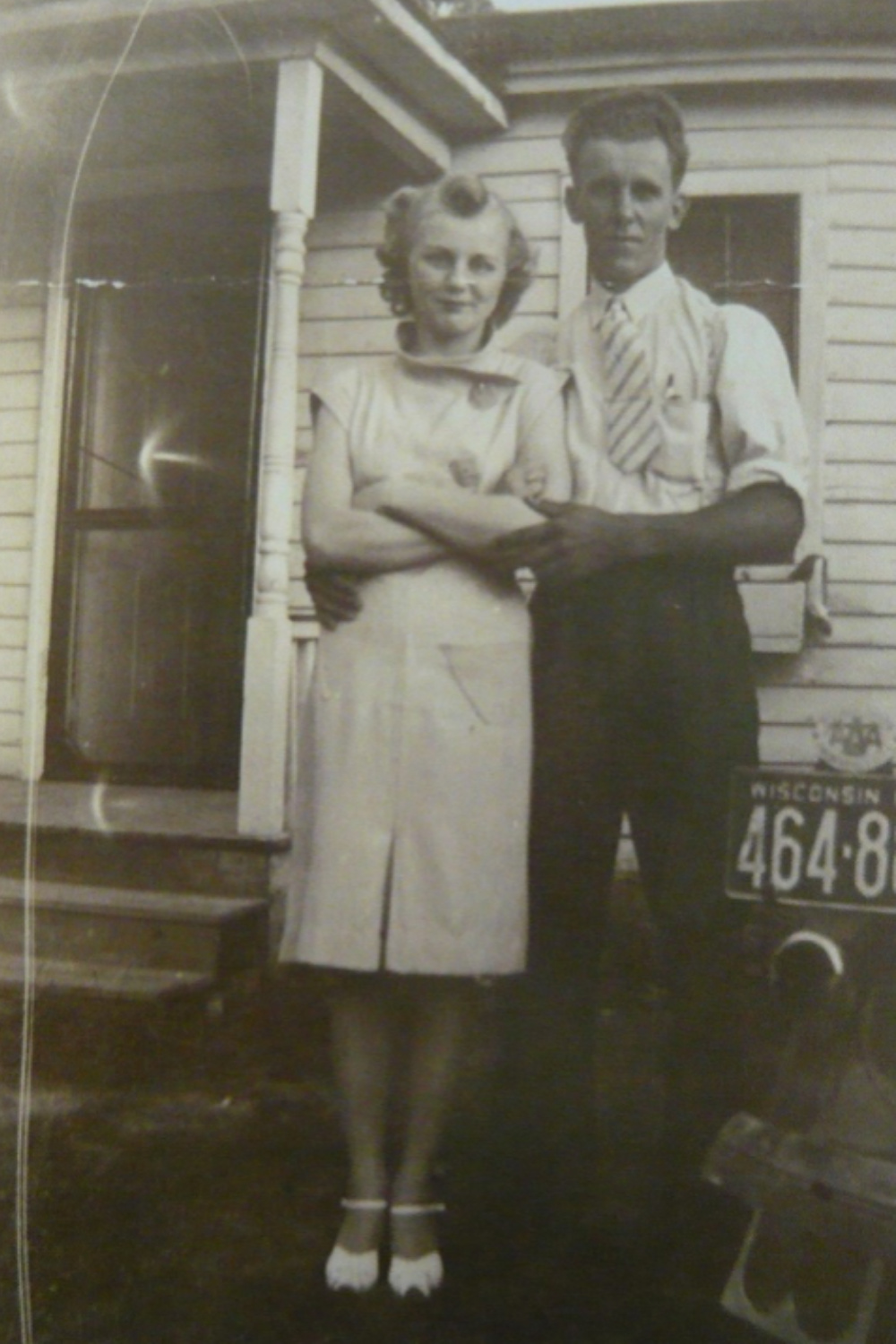 Louise Marie Hansen
My mom, Louise Marie Hansen, married Arthur Frank Ziemke.
Louise was the daughter of Peter Skaug Hansen (Peter Skaug Hansen born December 11, 1881 – Vardal Norway) and Marie Erickson.  Louise' siblings were: Jenny, Einer, twins Esther and Lillian (known as Billie), Ralph, Arnold, Norman, Adolph, Elmer (who died at Pearl Harbor), and Eleanor.
Arthur Ziemke
Arthur's parents were Frank Herbert Ziemke (Frank Herbert Ziemke born May 11, 1868 – Pomerania, Poland Germany) and Ida (Gall) Ziemke. Arthur's siblings were:  Walter 1898 – 1979, Herbert  1900 – 1963, Adeline 1901 – 1920, William  1903 – 1903, Luella 1904 – 1989, Esther  1906 – 1997, Frank Jr 1908 – 1995, Herman  1910 – 1910, and, finally, Arthur Ziemke 1914 – 1991.
Louise was from a Norwegian background and Arthur was German.  Both of their parents had immigrated from the old country and set up residence in the Racine/Bristol area of Wisconsin.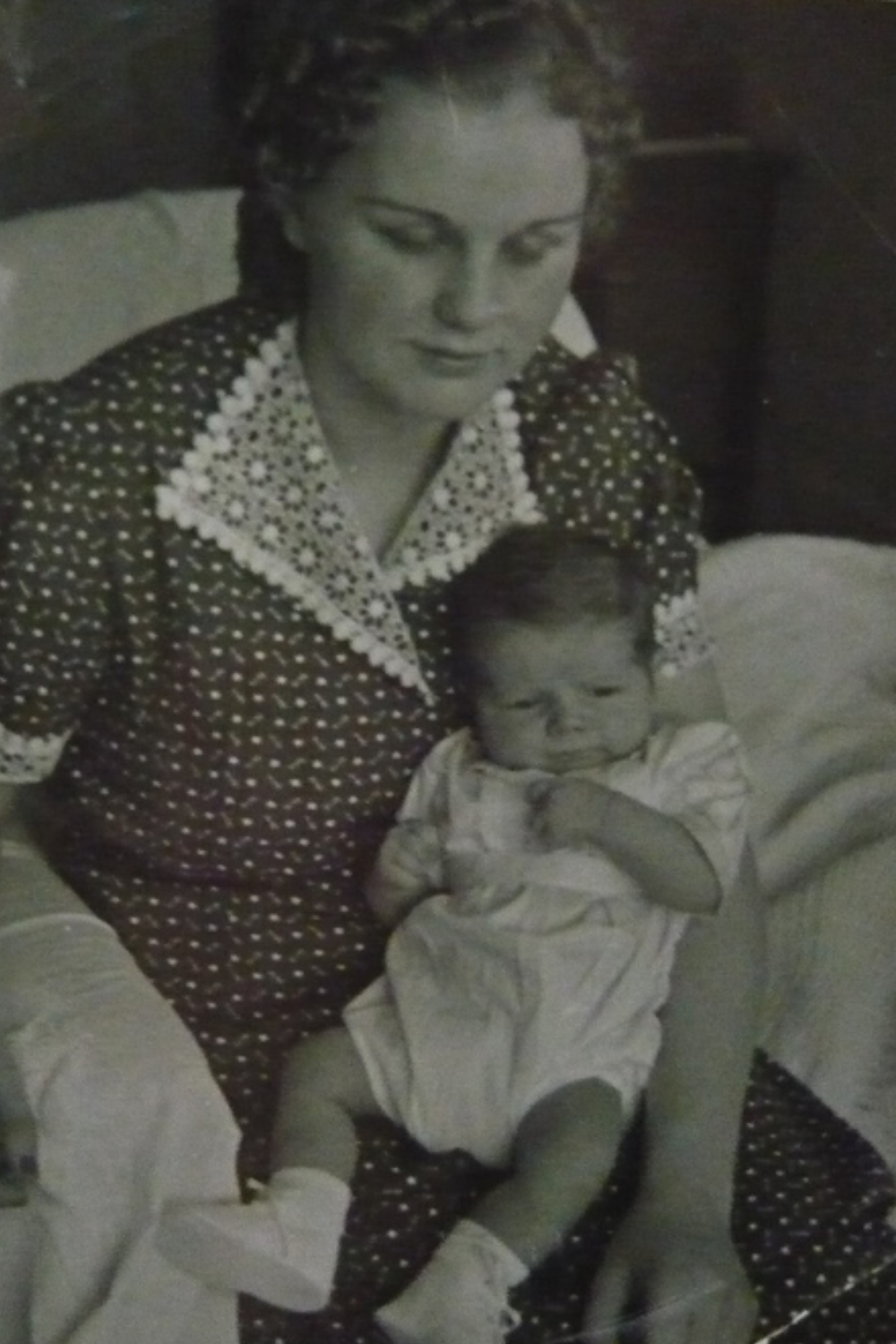 I was their first child, making my debut May 18, 1940 at St Luke's Hospital in Racine, Wisconsin. Our humble start began in a remodeled chicken coop in Union Grove.   After a brief stay in the coop, we moved to Eagle Lake where we lived in a converted boxcar before returning to Union Grove where we lived in three different homes.
A good share of time we lived in an apartment above the B&B Market where my Mom worked.  My job was to wash the wooden stairs going up to the apartment each week. It was a job I hated.  At the top of the stairs was a side room. Because the downstairs door wasn't locked, I often thought someone was hiding in that room and I was scared to death.  I'd had a nightmare on two occasions there was someone there, coming into the house to get us.
Next door to the B&B was Grise's Electric Shop.  An old couple lived in the apartment above it.  The woman was crippled in her arms so I did odd jobs for them.  (Thus began my "pastoral care" ministry.) Years later, my brother Pete had a Boutique shop in that same location and my Mom lived in the apartment above it.
My Dad worked for Case Tractor and Lathrop Furniture and Appliance in Racine.  At times he did roofing and roofed many area farmers' barns.  That gave us the ability to go into the silos at night to catch pigeons, put them in gunny sacks, and take them home.  We were poor and they were good eating.
We eventually bought a small house at 1318 Vine Street in "the Grove" for $7,000.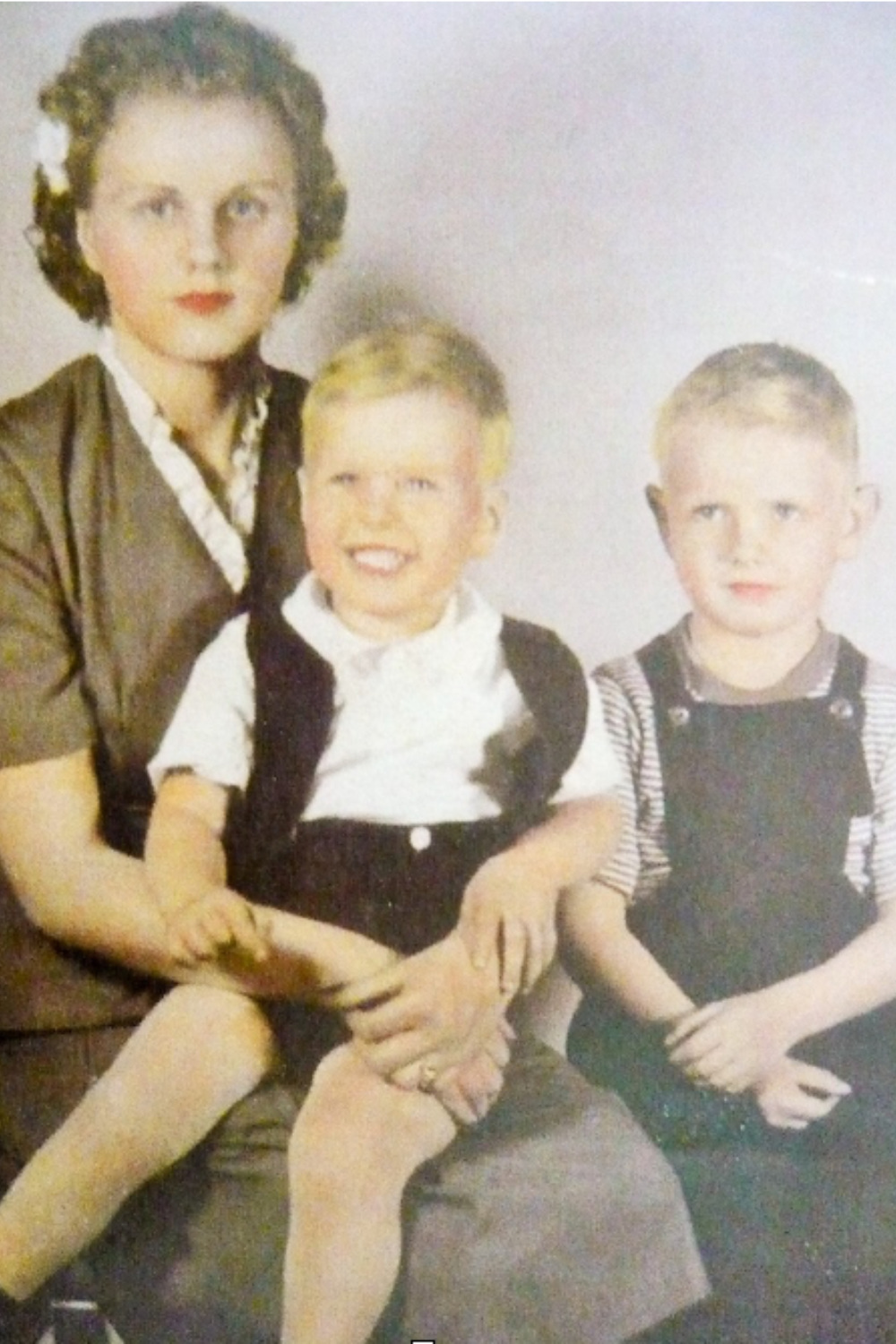 Pete and I had to sleep together in a double bed and were always fighting about one being on the other's side, so we imagined that a divider in the middle was an electric fence.
I had a stack of comic books of all kinds, 2 or 3 feet high.  They would be worth a million dollars if I had them today.
The worst spanking I ever got was when I was staying with my Aunt Virgie and Uncle Ady while my Mom was having a baby, my brother Jeff.   They couldn't get me to stop crying.  I didn't understand why I couldn't be with my Mom. When my Dad came, he whipped me with a belt.
Before TV came out, we had a console radio. I used to sit on the floor, lean against it and listen to "The Lone Ranger", "Sargent Preston of the Yukon", "Tom Mix", "Hopalong Cassidy", and the scary one, "The Shadow".  It always started with "…Who knows what evil lurks in the heart of man? The Shadow knows".
In those formative years, at about age 9 or 10, my Mom's brother, Uncle Arnie Hansen, faithfully picked me up and took me to Sunday school at Bethel Tabernacle in Racine, along with his wife Pauline and four sons.
At age 10, in 1950, my cousin Ray Hanson and I nearly ran to an altar at the end of a Sunday revival service with the conviction of God resting in our young hearts and bringing us to old fashioned repentance.  Shortly thereafter, we were baptized in the name of Jesus and about two weeks later, I was filled with the Holy Ghost with the evidence of speaking in tongues.  My persistent faithfulness to church soon got hold of my Mother's heart and she also became a spirit filled Christian.
Our Sunday school teacher, Sister Jesse, challenged the students to start each day with prayer, thanking the Lord for the new day; and to end each day bowing beside our beds, again thanking the Lord.  The challenge included reading at least one chapter in the Bible daily.  I accepted that challenge and have kept it throughout my life.
LR (Lowell) Mitchell was our Pastor.  He was an old fashioned preacher who preached about the coming of the Lord, the judgment and justice of God – Heaven was real and you wanted to go there; Hell was real and you didn't want to go there.  His emphasis was on the return of Christ which had a strong impact on my young life.
Polio was pretty wide spread and folks who had it were being put in iron lungs.  I got sick and was afraid that was what I had.  Pastor Mitchell came and prayed for me where we lived, upstairs of the B&B, and I was healed.  Healing became a reality for me at an early age.
My second pastor was LR (Lester) Thompson, a true Christian, a committed pastor, and man of God.  His oldest son became one of my life-long friends, Gary Thompson, who later married my cousin Linda Hansen.
After Mom became a Christian, my Dad would drive us to church but go visit his Mother in Racine while we were in church.  At one point he was baptized but never followed through with his walk with God.
Mom became a powerful witness and was instrumental in winning Dorothy Meredith, the wife of a prominent businessman in town, to the Lord. For a number of years we took in Mary Pfaff, a girl who had no home and had been rejected by her family.
As a boy I was taught the value and importance of Godliness, neatness, cleanliness, generosity, and a good work ethic.  We wiped down the shower or tub after every use, ironed our own shirts, and never left home without making our bed and cleaning our room.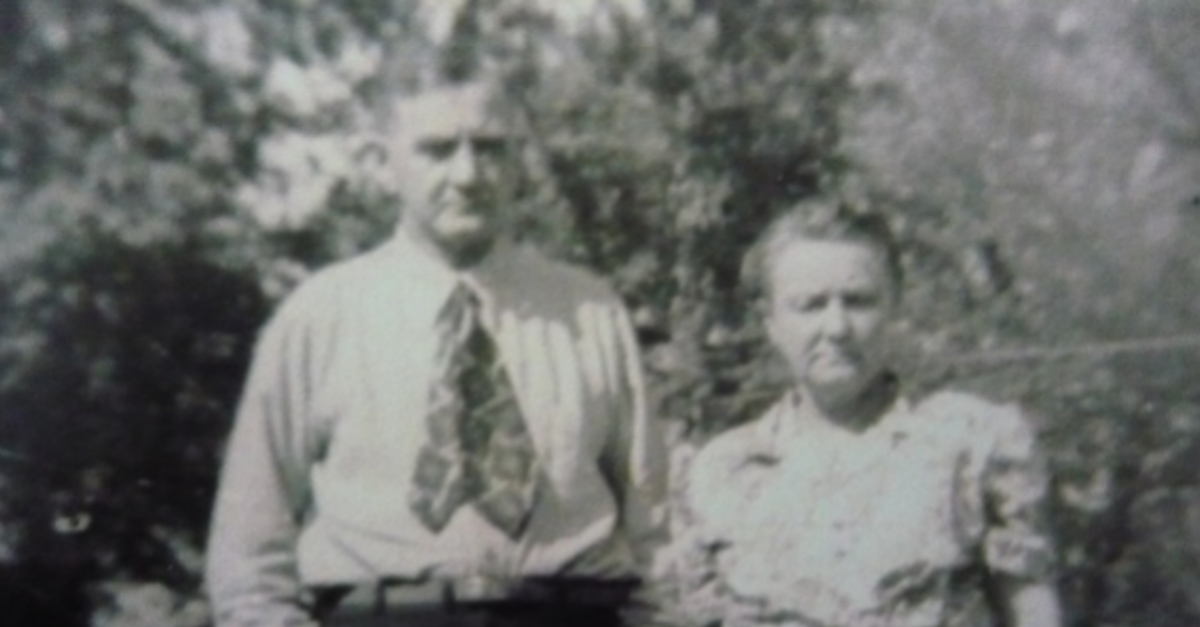 I loved spending time at Grandma and Grandpa Hansen's.  They were immigrants from Norway.  Grandma was a spirit filled Christian who set a great example for her grandkids and family, and she made the best tasting donuts.  Grandpa Peter always had the neatest stacked firewood.  Their only bathroom was the nifty old "outhouse"!
Grandma Hansen used to comment on how I could keep my hands clean even while working in the garden.  Cleanliness was an obsession, both personally, with my vehicles, and to the present day with my own home, motor home, cars, and yard. My type A personality, along with my obsessive compulsiveness and perfectionist attitude, keep my garage in meticulously ordered fashion.  I thank God I have a wife who keeps the house the same.
I have fond memories of our family going out in the country to buy apples, pears, and pumpkins from farmers in the fall of the year.
The Colbys, parents of one of my closest friends in high school, owned a candy shop where we could get a whole bag of hard candy for 5 or 10 cents on special occasions.
In the 50's, when I was about 12 years old, our family took a trip to Florida to visit Uncle Bob and Aunt Eleanor Stratton.  They had lived in Eagle Lake but moved to Leesburg, Florida, for a period of time.  We had a 1937 Lafayette with running boards.  The only part of the road trip I remember was going through Georgia when there was a flood across the highway and the water came as high as the running boards.
A lake was not far from their house.  To get there I had to walk down a creepy jungle-like trail where moss hung from the trees.  There were lizards running up and down the trees.  Aunt Eleanor told me to be careful of the area where alligators crossed the path.  I took my fishing pole, worms, my trusty Daisy BB gun and my Hopalong Cassidy jack-knife.
There was a little peninsula jutting out into the lake.  I was fishing from the shore there in the lily pads, catching small pan fish such as sun fish and blue gills.  As I caught them, I put them on my rope stringer and put them back out in the water to keep them from the hot sun.  I stuck the end of the stringer in the ground near me.
After fishing for some time, I decided it was time to head back.  As I looked among the lily pads, I saw the head of a snake.  His body looked lumpy in the water.  I grabbed my BB gun and shot it in the head but it didn't move.  I kept shooting, but it still didn't move.  Then I saw my fish stringer coming out of its mouth.  I pulled it to shore and could see the outline of my fish in the body of the snake.
A grungy looking old gentleman who was fishing on the other side of the peninsula was watching me. He came over, got a rock, and smashed the snake in the head.  Then he took out his buoy knife and slit the snake open to reveal the fish.  He asked me if I wanted the fish. "Oh, no sir" was my reply, "you can have them if you want them."  So he took them home with him.  That was probably the most notable experience I had on the trip.  That's my fishing story and I'm sticking to it.  (Smile)
When I was 16, I wondered why my Dad was sleeping in the basement these days.  That was answered one day when his car was parked at the curb instead of in the driveway.  Sitting in the kitchen on chairs around the old chrome table, he told us (Mom, Jeff, and I) he was leaving.  We started to cry.  Just then Pete walked in from his paper route.  "I'm leaving son", is all he had to say, and Pete joined us in tears.
We found out later there was another woman.  He married her.  Pete was 13, and Jeff was 10.  The haunting memory from that day was while my Dad packed his bags in the basement, I screamed at him, mostly because of feeling abandoned; though because I was a Christian I didn't swear.  I watched as he drove away.  My brother Jeff laid in the front yard kicking his feet and crying his eyes out.  Dad didn't support us financially and never gave us any birthday or Christmas gifts after that.  I carried bitterness in my heart toward him for the next six years.  After Lorraine and I were married and living in Wisconsin, we visited my Dad with the sole purpose of asking him to forgive me for my bitterness against him that day.
My Mom worked two jobs, took in ironing, painted, and wallpapered houses on the side, and did perms for the ladies in town.  We never took any government money or food stamps.  I guess you could say we were poor but we didn't know it.  I do remember that ice cream was a treat to have in the house.  At Christmas time we felt lavished by simple gifts such as Lincoln Logs, Erector sets, and maybe Pick-up-Sticks.  Wow, how different from today when kids want iPads, iPhones, etc.
We had a lot of fun and even got into mischief with my many cousins:  Tex, Lowell (Corky), Norman (Normie), Rodney, (Rod), Dallas (Agoo), Vermont (Nipper), Ray, Bobby and Billy.
We decided to sneak over to a neighboring farm close to cousins Dallas' and Nipper's house.  While I stood guard for the farmer coming home, the cousins chased the geese around the farm.  While Nipper straddled a goose and tried to wring its neck, the other geese were hysterically running and quacking.  About that time the farmer drove in and we ran.  Another time, I put on a cape and jumped off the roof of their shed.  I found out I couldn't fly like Superman.
Later Dallas and Nipper moved to a farm a couple of miles out of town.  We tried to walk the rails to their house to see if we could keep our balance the whole way.  Their Dad, my uncle Ady, raised cucumbers in the summer and we picked and sold them.  He paid us a certain amount for a gunny sack full.  A gruff old unkempt guy rented part of the farm to raise pigs.  He fed them all kinds of garbage.  His name was Frank Hammes.  I can almost hear him now in his gruff voice, "Come pig, come pig".
We also walked the railroad tracks toward cousin Ray's where a farmer had a pen with chickens.  We sneaked up the bank and tied a chicken's leg to the fence and tried to force feed it to make it lay an egg.  The ruckus got the attention of the farmer who caught us in the act.  He knew who we were.  We scattered.  By the time we got home, "Ma Bell" had beaten us there and my Mom was waiting to apply the board of learning to the seat of understanding.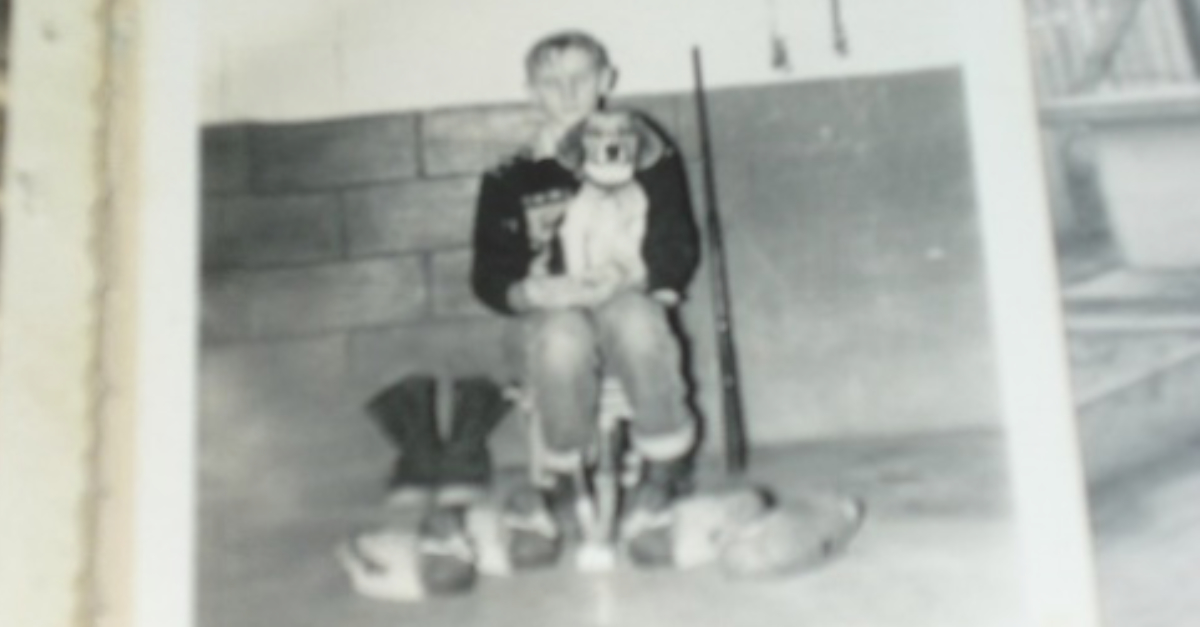 My cousins had what we called a Heinz 57 dog named Rascal.  It was an excellent pheasant dog. One time when I was hunting with him in the field behind the grade school, he came into a freeze-point and leaped on and caught a ring-neck pheasant in his mouth before it had time to fly away.  I was amazed.  Later I got a little beagle dog called Queenie.  It was a good rabbit dog.
Ketterhagen's Woods on the northwest edge of town was near Grandma and Grandpa's Hansen's house.  It was not only a famous woods to hunt squirrels but also fun in winter snow for toboggan rides and it had a great ski jump hill.  In the summer a small creek ran through it.  I was by the creek one day and saw a huge rock in the middle, about three or four feet tall.  Running my hand along the base of the rock, I pulled out an original Indian arrowhead – a fabulous find.
Some of our in-town activities included roller skating down the sidewalks of Main Street with our clamp-on skates.  We put pennies or nails on the railroad tracks to let the oncoming trains flatten them. The morning after Friday night movies at the park, we'd scour the ground for coins accidentally dropped by the many people there.
In the winter snow storms, the village workers plowed the main street, stacking snow into high curbside piles.  That's where we played "King of the Hill".  We didn't have to worry about traffic.  There was very little after 6:00 p.m.
A favorite pastime was going to old Mr. Roy Buffington's house.  He had a basement jam-packed full of fascinating fishing and hunting things to be traded or sold. We  bartered and traded with him.  That's where I learned to barter.
Down the street from us lived Eugene Bruinsma, a guy who built miniature model airplanes with gas engines.  They were controlled by two long wires.  We began building model planes and it became such a hobby that we started a club and called it the "Prop-busters", complete with membership cards.
Another big pastime was playing marbles.  Whoever won got to keep the marbles from the other players.  There were always friends who took special pride in having the best "shooter". Other pastimes were the simple games of kick-the-can, hide-and-seek, and tag. We got plenty of exercise.