Mom wrote their story in 2014 in order to share their history with family and family to come.
I'm excited to now share their story with YOU!
In The Ziemke Story you will learn of their Christian Heritage, their early years, ministry, trying times, family, where they've been, and how they ended up where they are today!
We will endeavor to share a little bit of  The Ziemke Story each week as Mom wrote it to her children, grandchildren, great grandchildren, and beyond.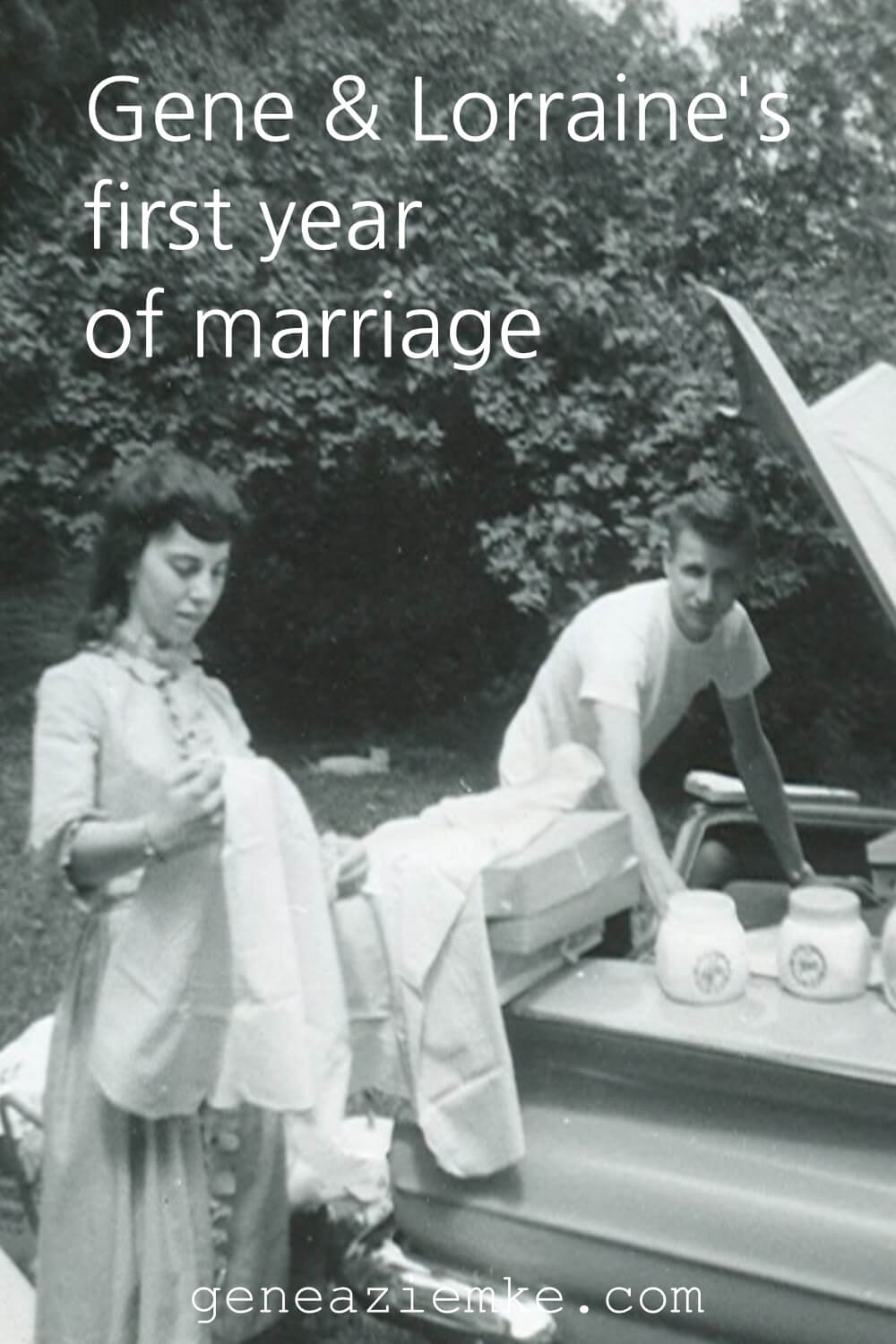 Hawkins
The day after our wedding, we went on to find our assignment in the tiny town of Hawkins. The main family in the church, the Tulpans, invited us to dinner and to stay with them a few days until we could locate housing.  Their driveway was long and shrouded in pretty trees.  Sunlight came in streams through the trees revealing a green field and the promise of things heavenly. Around a curve in the driveway the old farmhouse and barn were paint-bare, but welcoming.  Sister Tulpan cooked partially on an old wood stove.  They had three teenage girls and a boy; Edith, Jeanne, Shirley, and Tennes.  They, indeed, were the most faithful family in the church.
Sometime soon after arriving, I got a call from Sister Tulpan.  She wanted to talk to us about something but couldn't say anything about it on the phone.  We drove out to the farm.  As we stepped into the dining room we heard, "Surprise"!  It was another wedding shower. There were gifts from the Tulpans, Moores, and Sisters Farwell, Skilbred, and Smith.  We sang songs, played games, and enjoyed a huge fluffy white five-layer-cake with fillings of chocolate and strawberry, made by Sister Tulpan.  Yum!
Within a few days, we located a used trailer house in Marshfield, Wisconsin. We had it delivered to an empty lot we could rent from a local family. It was adjacent to the high school playground in Hawkins.  The 38 x 8 foot single-wide 1958 model Elcar trailer was rose-pink and charcoal-gray on the outside.  It had a small living room, kitchen, walk through bunk room, bathroom, and back bedroom.  We heated with oil.  The north of Wisconsin gets very, very cold.  Without much insulation underneath, the water pipes were easily frozen.  To avoid that, the plan was to let the water continue to trickle in the sink.  I forgot a few times and we indeed had frozen pipes.  Gene made a sign to put on the mirror above the sink.  It said: "Dearest Wife: I love you but, please leave the H2o run!".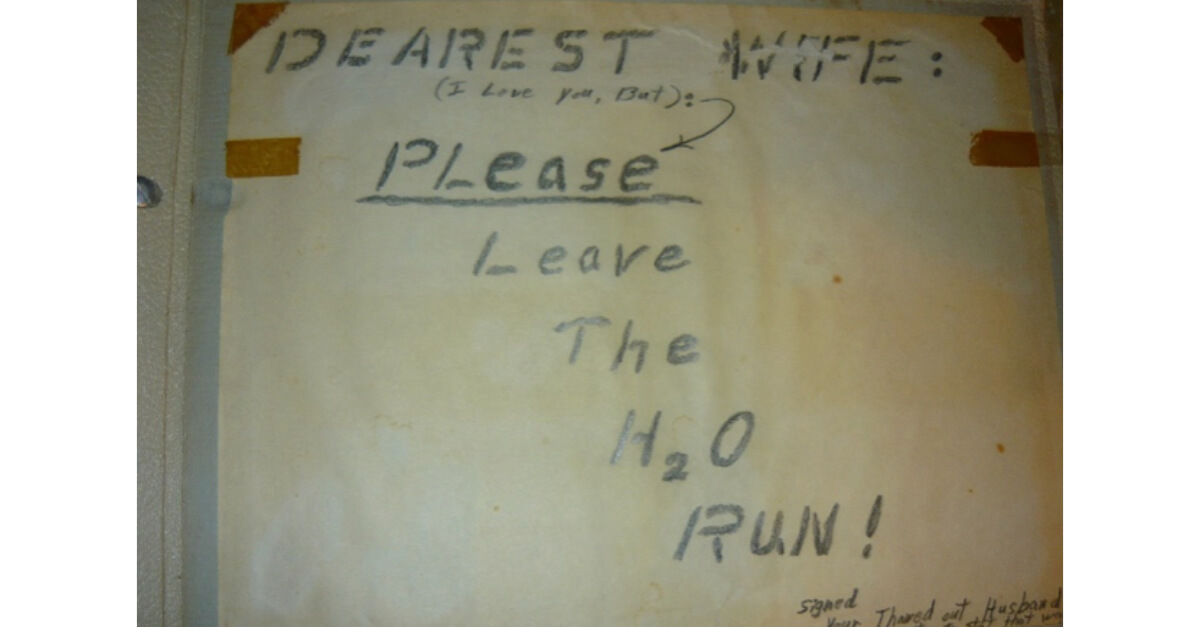 When it got down to 48 below zero and 35 below for a week, our oil line froze and the furnace went out in the middle of the night.  I wanted to put more blankets on and pretend we were in Hawaii.  Gene said we would be frozen by morning.  He went to the neighbors for help and got a blow torch to heat up the lines. That worked but started a fire underneath.  They got it out quickly.  The next day, we learned the oil delivery truck was also frozen and they couldn't deliver oil.
The church was a small building with brown composite shingle siding.  Since the congregation was small, offerings barely paid for heat and lights.  We were on our own to make a living.  Gene got a job at the Sash and Door factory in town.  It was long hours and hard physical labor.  He worked 50 hours a week for $2.57/hour.  I got a job as a secretary for the principal of the combined grade school/high school.  It was the first year for the new principal, Mr. Hughes.  He was an older gray haired man who had requested an assistant.  The school board had only $125 a month left in their budget that could be used to hire someone part time. That was my monthly pay.
There were a few businesses in town. One was a combination post office and butcher shop.  It was supplied with one butchered beef each week.  We learned to buy their tenderloin (filet minion) for $7.00 and cut it into steaks to enjoy with relish for several meals. It was so tender and delicious.
Quick Quotes from my letter to Mom July 18, 1962:
The stores here are funny.  There are two stores called Mercantile.  They have everything from hardware to groceries.  I've been to both to get groceries and they write down every can of beans you buy on a sales slip. Ha.  If you buy a lot, it takes all day to write it down.
We held meetings on Wednesday evenings, Sunday mornings, and Sunday evenings in the little church on the main highway through Hawkins, a town of 400.  I played the piano as best I could, either in the key of C or F.  I hadn't played before other than three months of lessons in the third or fourth grade and a very few lessons from Sister Moyer in college, but Gene prodded me to do it.  There was no one else.  We sang from the old song books.
We had to get to church early enough to make sure the oil heat stove was lit.  It was a bit of a trick to adjust so that the temperature was just right by the time church started.  Once lit, we'd huddle around it until the room became toasty warm.  My black and white tweed coat sustained a scorch stain from getting too close.
There were two small classrooms in the back, which I promptly re-papered. There was no indoor plumbing, but an outhouse down a path behind the church.
There were about 20 regular attendees and a few more came as time went on.  Besides the Tulpans, there were two or three older women, a couple of teenage girls (Donna and Alice Moore), and a family with children from another small town nearby. Average attendance was 27 with a high of 32 and a low of 12.
We rounded up a few extra folks for a special meeting and some children for Sunday school.  Gene gave the altar call.  A little boy, who was visiting for the first time, knelt by the pew beside me.  He told me his feet hurt because he was wearing his brother's shoes.  I suggested he loosen the shoestrings.  I led him in a prayer to ask Jesus into his heart.  Then I asked him if he felt better.  He replied, "Yes, and my feet feel better too".
We were often invited to the Tulpans for Sunday dinner or for dessert in the evening.  A most exciting pastime was to take a spotlight, pile in our car with some of the teenagers, and shine and count deer in the fields along the back roads.  There were many, many of them, sometimes nearly 200.  One of our mainstay meals was tuna casserole with crushed potato chips on top and carrot salad.
Before long, Gene's brother, Jeff, decided to quit high school in Union Grove and come live with us.  He stayed a few months, using the bunk room of the trailer house.  My folks drove up to see us there and also sent us money to come home for Christmas.  It was so sweet of them to come. It was as if they just had to check and see if the living conditions were suitable for us.
A memorable event for us was when the Harvestime team, including Hugh Rose, the powerful singer on the UPC Radio show, came to our town for a Rally.  We borrowed the Lutheran church for the event and Pentecostals came from towns around so it was pretty filled.  Some of the Lutherans were there as well.  Joanne Larson/Ziemke came with her parents from St Paul. When Hugh sang, we thought the stained glass windows would break.  Nathan Urshan preached, his wife sang, and then they all came over to our little trailer afterwards for cake and ice cream.  There were not even enough seats for all twelve in that little trailer.
Gene considered our year there as a fourth year of Bible College.  There was so much to learn, even with just a small church.  People have problems everywhere. We learned so much through the practical experience of coping with the natural and spiritual problems in people's lives.  Gene officiated at funerals, baptized, blessed, and counseled.  He preached, witnessed, led people to God, and created a growth climate for the few saints in the church. He confronted, visited, observed, prayed, exhorted, and beckoned.
Gene began to get itchy feet to move on and evangelize. "I promised God a year here," he said.  He told the Lord he was ready to evangelize but not many people knew us, or knew that we wanted to evangelize, so there was no action.  He felt as though we must leave Hawkins and put ourselves in God's hands for the future.
We gave our resignation and planned to move in June.   We sold our trailer house and, one sad day, the new owner came and pulled the dusty rose and charcoal trailer away.  We took a drive a few days later to find it nestled in its new home back off a country road flanked by trees and hills.
There was nothing to be rented in our little town,  least of all anything furnished.  We moved into an apartment in Ladysmith, a town of three to four thousand about 20 miles away.  The sparsely furnished apartment was up a flight of dirty stairs and down a long hall above the town theater.  The ceilings were high so that when we walked on the brown tile floor, it echoed.
There was one large room with a kitchen at one end and one small room with an adjoining bathroom.  The small room was undoubtedly meant to be a bedroom but was barely bigger than a bed.  With our limited furnishings, we thought it best to sleep in the big room.  Then we could also use the bed to sit on during the day.
Our First Anniversary
One of the older women made us chicken soup and sent it over to us in a quart jar.  It smelled like rotten eggs when we opened it.  I thought we should at least try it, as she would be asking how we liked it, but Gene would have none of it.  The Tulpans were out of town that day but Shirley and Tennes Tulpan (we called him Tenny) had come for the afternoon and agreed we should throw it out. I flushed it down the toilet and decided not to return her jar until she might have forgotten what she gave us in it.  We took Tenny and Shirley with us to eat at a little restaurant at the edge of Ladysmith on our way back to church for evening service.
We lived in the apartment for three months and finally left August 12.  There was not a Pastor found to replace us but the teenage Tulpan girls planned to continue services themselves.  Eventually, the church closed.
We visited many years later and found the church building had been moved to someone's back yard and was now an antique store.  Gene purchased an animal trap there as a memento.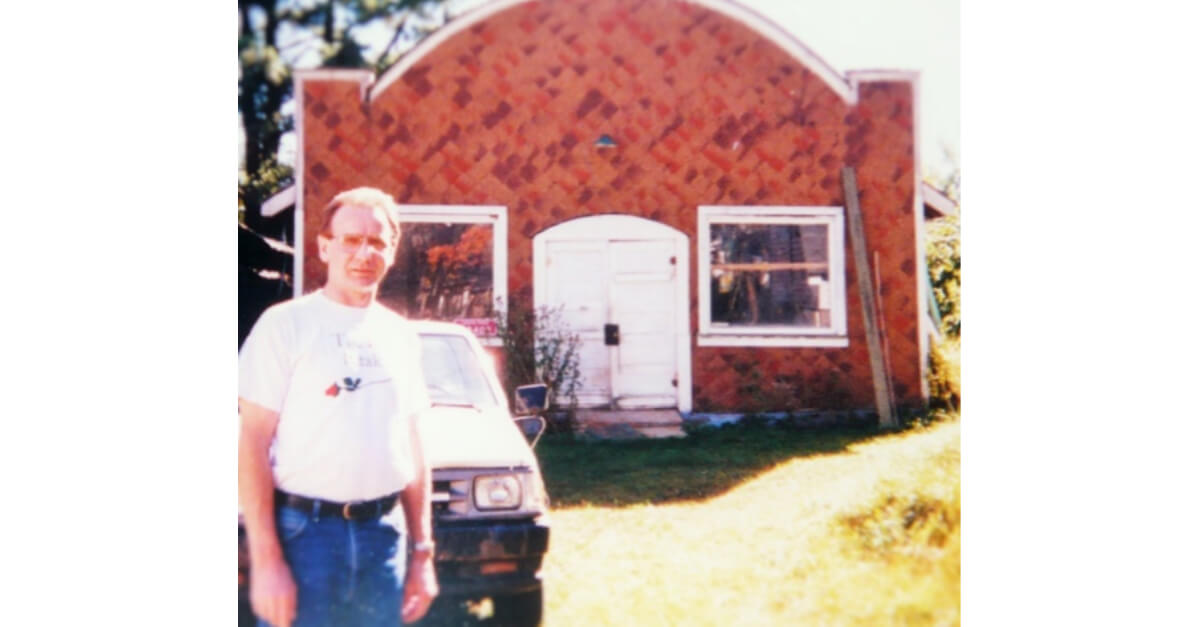 More Of The Ziemke Story
Gene – The Early Years – Family and Church
Gene – The Early Years – Money, School, Hunting, and Fishing
Gene – The Early Years – Cars, Girls, The Future, and Nearly Drowning
Lorraine – The Early Years – 1942-1950
Lorraine – The Early Years – 1950
Lorraine – The Early Years – 1953 – 1955
Lorraine – The Early Years – 1956
Lorraine – The Early Years – 1957 – 1958